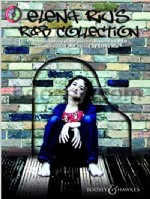 Riu, Elena - Elena Riu's R&B Collection
17 Contemporary Piano Pieces Inspired by R&B
Instrumentation: Piano, CD
ISMN 9790060118814
Publisher Boosey & Hawkes (London)
Availability: Stock Title
Level of Difficulty: Intermediate
A collection of newly-composed piano pieces for the intermediate performer, inspired by the theme of R&B in all its manifestations & curated by pianist & teacher Elena Riu. Riu is known for her imaginative approach to programming & her ability to inject new excitement into piano recitals. Includes pieces by: Sally Beamish, Harvey Brough, Peter Cowdrey, Julio d'Escrivan, Cimeon Ellerton, Douglas Finch, Rolf Hind, Elena Kats-Chernin, Ana Lara, Phillip Neil Martin, Lola Perrin, Nick Redfern, & more.


"We are all familiar with the vibrant South American pianist, Elena Riu, whose wildly original concerts and workshops are widely acclaimed. Here, she decided to ask colleagues and friends to compose works based on popular, light music of the 70s. Elena used to hear her brother's pop, rock and blues music when he was strumming his electric guitar in the next roon while she was "practising" her classical music on the piano. This constant background music made her aware thsat today's young pianists might not really appreciate Handel Gavottes or Purcell Minuets and might prefer some funky music with a contemporary slant. Elena Riu's book caters for the gap in the intermediate-level music market and should really appeal to all young pianists. The 17 pieces all cover a very broad spectrum of musical moods, genres and styles - from blues to hip-hop, Latin to Japanese, riff to robust funk, salsa to improvisation - and cannot fail to appeal to all intermediate students looking for some repertoire that is new, unusual, quirky and off-beat."
EPTA Piano Journal


Contents

01 Open (Huw Warren)
02 Ode to Sun Ra (Douglas Finch)
03 Elena's Blues (Harvey Brough)
04 Remix (Cimeon Ellerton)
05 Caminata de Pastelito (Ana Lara)
06 Fleeting Beauty (Elena Kats-Chernin)
07 Kicking Little Shadows (David Rosenboom)
08 Off the Wall (Rolf Hind)
09 Monsta (Matt Wright)
10 Dr & Mrs H's Cheer-to-Cheer Midnight Rave (Elena Riu)
11 Rhythm, Fallin' Blues (Phillip Neil Martin)
12 Breakfast in Milestown (Lola Perrin)
13 Back to the River (Sally Beamish)
14 Miranda's Blues (Peter Cowdrey)
15 Pastel's Song (Nick Refern)
16 Funkyjump (Julio d'Escivan)
17 Missy Lake (Nikki Yeoh)
---
Press Reviews
Despite being aimed at the 'intermediate' market, some of the ideas and styles in this collection would suit the more experienced performer..... these works are a great addition for those seeking a bit more bite in their baroque.
All the pieces feature strongly rhythmic writing within a contemporary sounscape. A number of songs should be popular with students they are fun to play, and easy to listen to.
The dynamic Venezuelan pianist Elena Riu has hit a potential jackpot with this innovative collection of freshly commissioned piano pieces from no less than 17 distinguished composers. Riu has already produced a riveting collection of contemporary piano works inspired by Salsa but whereas that laudable project contained works that could only be tackled by advanced performers, this new anthology is more accessible in that most pieces hover around the Grade 3-6 mark. With glossy presentation, excellent introductions and a useful CD, there is every chance Riu will succeed in reaching her target audience.
Customer Reviews
"Elena Riu has an outstanding talent of creativity. Here she has brought together a selection of well known composers like Harvey Brough and Huw Warren, and got them to compose amazing and catchy pieces. A good buy for intermediate players."
Tell us what you think
---
News stories for this title
New contemporary piano pieces inspired by R&B