World premiere of Górecki's Sanctus Adalbertus in Kraków
(November 2015)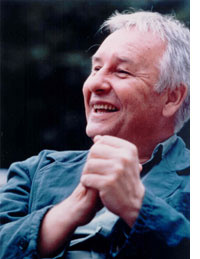 Górecki's oratorio Sanctus Adalbertus received its long-awaited world premiere in Kraków on 4 November, as part of a 70th birthday gala concert for Polish publishers PWM.
The long-awaited world premiere of Henryk Mikolaj Górecki's hour-long oratorio Sanctus Adalbertus, composed in 1997-98 but left unperformed at his death, formed the finale of a gala concert at the ICE concert hall in Kraków on 4 November celebrating the 70th anniversary of Polish publishers PWM. Of the Górecki works published posthumously this was the last major score by the composer to receive its world premiere.

Scored for soprano and baritone soloists, chorus and orchestra, Sanctus Adalbertus was performed in Kraków by singers Wioletta Chodowicz, Artur Rucinski, the National Polish Radio Orchestra and the combined voices of the Polish Radio Choir and Kraków Philharmonic Choir under the baton of Jacek Kasprzyk. A further performance with the same forces took place on 11 November at the NOSPR Hall in Górecki's home city of Katowice.

As leading Górecki scholar Adrian Thomas writes, "Sanctus Adalbertus is a successor to Górecki's Beatus Vir (1979) which he wrote in praise of St Stanislaus (Stanislaw in Polish). Górecki had envisioned a cycle of large-scale works on Polish saints, but only these two pieces materialised. Although Bishop Adalbert (Wojciech in Polish) was born in Prague, he moved north to convert pagans in what is now Poland. He was killed there in 997, when he was 31, was canonised three years later and became Poland's first patron saint.

"Górecki drafted his score for the millennial commemorations of Adalbert's martyrdom, but the project fell through (in the event, he did not write the fourth movement until 1998). But when another opportunity arose, he used much of the third movement 'Hymnus' for the final joyful section of Salve, sidus Polonorum (2000). Now that Mikolaj Górecki has prepared the full score of Sanctus Adalbertus, we are able to hear it in its original context.

"Sanctus Adalbertus has four movements, all of which relate to his other choral and vocal pieces (with or without instruments) in their contemplative directness. Typically, the orchestra is used either sparingly or tutti. The first two movements, 'Psalm' and 'Lauda', are solemn invocations. The concluding 'Gloria' is built around Poland's Christian battle-hymn, the medieval chant Bogurodzica, and it brings the oratorio from its initially reflective mood to a resounding, major-key celebration."

Like Sanctus Adalbertus, other Górecki works left unheard at the composer's death in 2010 are joining the canon thanks to performances and recordings. Following its world premiere in London in 2014, Symphony No.4: Tansman Episodes has been performed in Los Angeles and Amsterdam, at the International Tansman Festival in Lódz, and in Gdánsk and Kraków. Further Polish performances follow this autumn in Katowice and Warsaw. Nonesuch is soon to release the first recording of Symphony No.4 featuring the London Philharmonic Orchestra conducted by Andrey Boreyko, together with a seven-disc Górecki box set retrospective and the first vinyl LP release of the classic recording of Symphony No.3 with Dawn Upshaw.

Górecki's Kyrie received its UK premiere at the BBC's recent Total Immersion day devoted to the composer at the Barbican in London. Premiered in St John's Cathedral in Warsaw at Easter 2014, the work has received three additional Polish performances, with plans underway for a further outing at the 2016 World Youth Days in Kraków next July.
> Further information on Work: Sanctus Adalbertus
Photo: Gerry Hurkmans

Boosey & Hawkes Composer News