Weinberg 25th anniversary of death in 2021
(June 2021)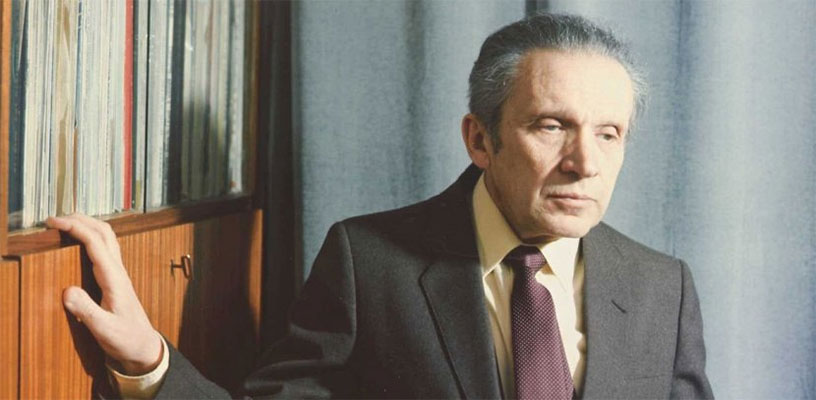 Works by Mieczyslaw Weinberg have joined our classical catalogue following Sikorski's publishing union with Boosey & Hawkes. Music by the Polish-born émigré composer, who spent most of his creative live in Moscow, has seen a growing wave of international recognition over the last ten years.
One of the most significant classical music trends of the past decade has been an increasing awareness of the music of Mieczyslaw Weinberg (1919-96), through international performances of his operas, symphonies and chamber music and a welcome array of new recordings. In 2021 he no longer stands in the shadow of his great friend and supporter, Dmitri Shostakovich: in this 25th anniversary year of his death we can recognise him as a major 20th century composer in his own right.
Weinberg was born into a family of Jewish theatre musicians and actors and grew up in Warsaw where his creative talents were soon recognised. He made his debut as a pianist and music director aged ten and two years later began piano studies at the Warsaw Conservatory with Jozef Turczynski. On completion of his final piano examinations his career as an international keyboard virtuoso seemed assured but, with the outbreak of war, he decided to flee from the approaching German Wehrmacht to the Belarus capital Minsk, where he studied composition for two years with Vassily Zolotarev, a pupil of Balakirev and Rimsky-Korsakov. His parents and sister, who had remained in Poland, were murdered by the Nazis in the Trawniki concentration camp and in 1941 Weinberg had to escape again when the Germans invaded Russia, this time to Tashkent in the Soviet republic of Uzbekistan.
Working as a repetiteur at the opera house in Tashkent, Weinberg also composed stage works in collaboration with many other evacuees and refugees. It was through these connections that he came to the attention of Dmitri Shostakovich, who was greatly impressed on viewing the younger composer's first symphony. Shostakovich arranged official permission for Weinberg and his new wife to move to Moscow, which became the composer's home for the last 50 years of his life.
The special relationship that developed between Weinberg and Shostakovich was marked by mutual friendship and respect – they discussed their projects and showed each other every new composition. Shostakovich described Weinberg as "one of the most outstanding composers of today", while Weinberg acknowledged the influence of and kinship with Shostakovich: "Although I never had lessons from him, I count myself as his pupil, his flesh and blood".
Like most creative figures working under the control of the Soviet state, Weinberg experienced Stalinist cultural and political terror after 1948. Some of his works were prohibited, along with those by Shostakovich, Prokofieff and Khachaturian, when Zhdanov accused a group of composers of promoting Western influences and not conforming to the doctrine of Socialist Realism. In 1953 Weinberg was imprisoned for three months with an expected death sentence, supposedly for planning to establish a Jewish Republic in the Crimea but truly because his wife was a close relative of the lead defendant in the anti-Semitic show trial of Jewish doctors, who were falsely accused of plotting against Stalin. Shostakovich sent a petition for Weinberg's release to Beria, notorious head of the NKVD secret police, but it was Stalin's death that finally liberated the composer from prison.
Weinberg refused to become a party member and join the campaign against Western musical 'formalism', so received no official support for the next decade. Keeping in the background until the climate thawed, he earnt a living as a freelance composer and pianist. When his works were performed, it was usually at the initiative of renowned interpreters such as Emil Gilels, David Oistrakh, Maria Grinberg, Leonid Kogan, Mstislav Rostropovich, Alexander Gauk, Kirill Kondrashin, Kurt Sanderling, the Borodin Quartet and others.
Like Shostakovich, Weinberg's output focuses on symphonies, chamber music, stageworks and film, and he was similarly prolific with a worklist of over 150 numbered works. As well as expected Russian influences, including Shostakovich and Prokofieff, flavours of Mendelssohn and Mahler can be heard. After the 1948 denunciation he steered towards a simpler neo-classical style often employing elements from Jewish, Polish and Moldavian folk music. His music blends tragedy and humour, exploring recurrent themes including his Jewish heritage, pacifism and a distillation of his personal experiences during a turbulent era: "Many of my works are related to the theme of war. This, alas, was not my own choice. It was dictated by my fate, by the tragic fate of my relatives. I regard it as my moral duty to write about the war, about the horrors that befell mankind in our century."
Weinberg's stageworks in the Sikorski catalogue include the operas The Idiot based on Dostoevsky's novel, Lady Magnesia after a play by George Bernard Shaw, The Portrait after Gogol's novella and the comic Congratulations! Orchestral works include Symphonies Nos.6, 10, 12 and 14, the Violin Concerto championed in recent years by Gidon Kremer, Ilya Gringolts, Linus Roth and Benjamin Schmid, the Fantasy for cello and orchestra, and the Trumpet Concerto performed and recorded by Håkan Hardenberger.
David Fanning's book Mieczyslaw Weinberg: In Search of Freedom, published by Wolke Verlag in 2010, was the first authoritative account of Weinberg's life and works in any language. An expanded version, co-authored with Michelle Assay, entitled Mieczsylaw Weinberg: His Life and Music is in preparation for publication by Toccata Press.
In 2015, an International Weinberg Society was founded with headquarters in Augsburg, Germany. It was initiated by violinist Linus Roth and conductor Thomas Sanderling primarily to promote the music of Weinberg and focus greater attention on his œuvre. The Society's distinguished honorary president is Irina Shostakovich, Dmitri Shostakovich's widow. The stated aim of the International Weinberg Society is to organise concerts, lectures, exhibitions, and multidisciplinary events focusing on Weinberg's musical output, his close association with Shostakovich and his significance for 20th century music. The Society also provides funding support for recordings of his music and the publication and translation of articles and books about his life.
> Visit the International Weinberg Society website
The 25th anniversary of Mieczyslaw Weinberg's death was on 26 February 2021.
> Further information on Work: Concerto for Violin and Orchestra
Photo: International Weinberg Society

Boosey & Hawkes Composer News