Ursula Mamlok: Modernity as a matter of course
(May 2022)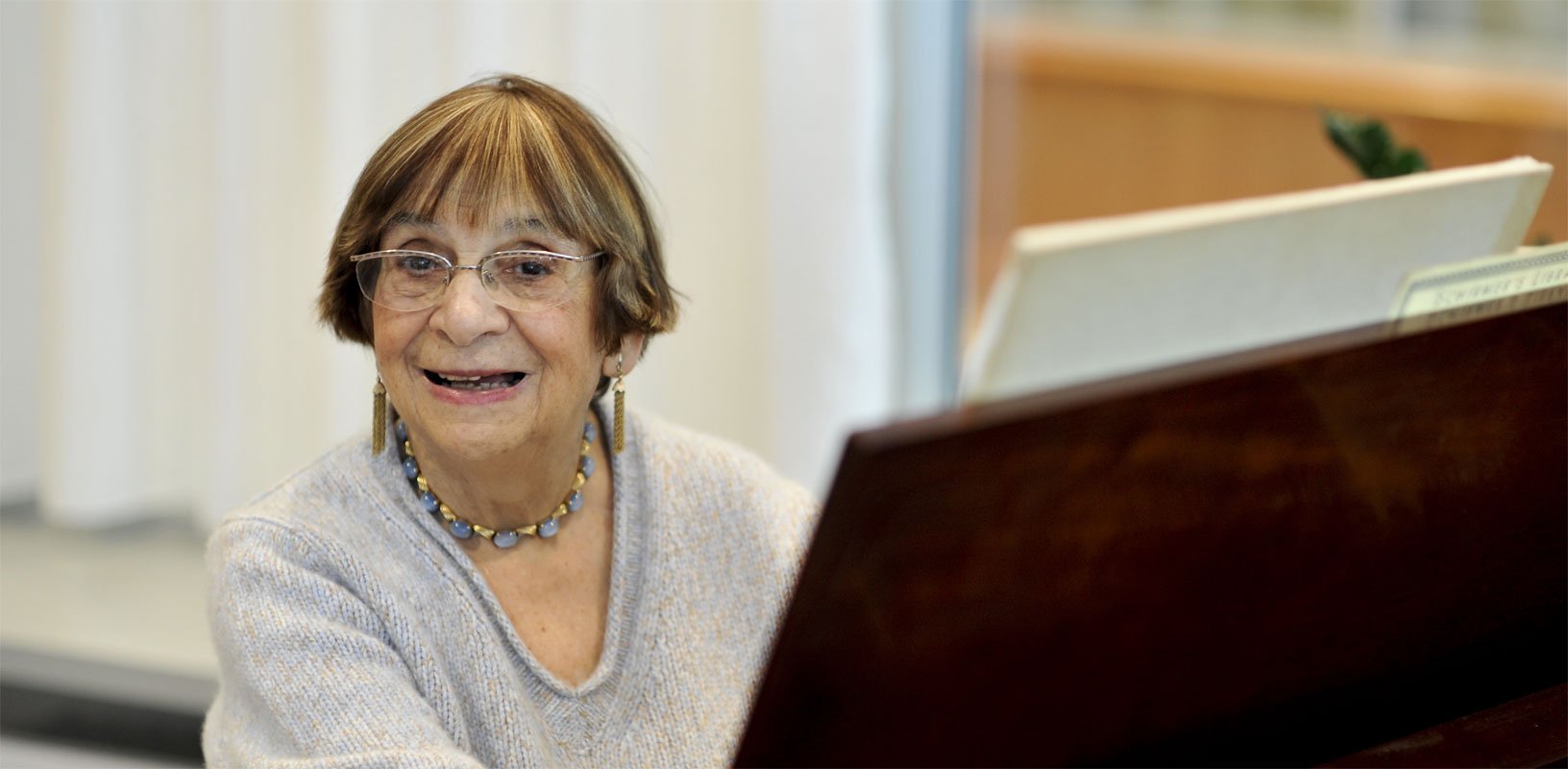 Learn about the life and career of Ursula Mamlok ahead of her100th birthday in 2023, including both her personal journey from Germany to the US and her musical journey in finding her own refined style of serial composition.
Can modernity become a matter of course? In the case of the fine arts, this question may be answered in the affirmative, albeit with a long phase lag between the creation and the recognition of the works. And in music? Arnold Schoenberg believed in it – before he was forced to emigrate from Germany; later he saw things more skeptically. For Ursula Mamlok, who was almost half a century younger, this conviction became the creative elixir. She put up with a long road, marked by many detours and delays, to find a kind of modernity that corresponded to her original, immediate artistry. It was a modernity of clarity, communicative awareness, and unwaveringness. She was not an artist of programmatic explanations, but of practice. In everything she composed, she had her first interpreters in mind and wrote for them first. In music she expressed herself just as directly and frankly as she did about music. The succinctness and persuasiveness of her diction arose from an educational and knowledgeable background of which she made no fuss, and from a phenomenal memory and imagination that persisted into old age.
Ursula Mamlok died six years ago, on May 4, 2016, at the age of 93 in Berlin. She was buried in the Jewish Cemetery in Weißensee, next to her father Hans Meyer. He died at the age of 28 when she was only 20 months old. She owed the knowledge of her father's final resting place to a colleague and friend of her late years. She was born on February 1, 1923, in Charlottenburg, which had recently become part of Greater Berlin. Four years after her father's death, her mother married Hans Lewy, whom she had met through a cousin in the director Ernst Lubitsch's house. Ursula was then also called with the new family name. She attended elementary and high school (today's Sophie-Charlotte-Oberschule in Sybelstraße), and although she did not receive systematic piano lessons until she was nine years old, by the time she was 16 she had reached the point where she could have been accepted as a junior student at a music conservatory.
But it did not come to that. The family used one of the last chances to escape further Nazi persecution by emigrating. In February 1939, shortly after her 16th birthday, Ursula Lewy left Berlin and Germany with her parents. She was able to study at the private music school Holländer for one semester after her relegation from the state school. The main teachers there were those who had previously worked at the Stern Conservatory and who had been dismissed as a result of its forced "Aryanization". Her formative teacher in Berlin, however, was Gustav Ernest, pianist, conductor, composer, and educator; an authority in Berlin cultural life not least for his books on Beethoven, Wagner, and Brahms and for his teaching at the Humboldt Academy (an institution of the popular education movement, not to be confused with today's Humboldt University). Under him she learned the usual basics: harmony, counterpoint, formal theory, but also wrote fugues and first sonatas. Ursula Lewy internalized his strictness towards everything that he considered unsuccessful or unnecessary in a composition as an artistic ethos. It was, she confessed, often a hindrance to her in later years; all too quickly she often discarded any ideas that she questioned as to their viability. Nevertheless, the formation of her own instance of judgment proved to be an important aid in her further path to becoming a composer. Thanks to it, Ursula Mamlok succeeded in finding her own style despite many detours and obstacles.
Detours
The detours in Ursula Mamlok's career began with exile. In 1939 it was difficult for Nazi persecutees to find a place of refuge. Ursula Lewy named Palestine, where she hoped for more lessons from her former teacher Adolf Daus, the Netherlands, to which Gustav Ernest emigrated, and above all the USA, as desired destinations. In the reflections she confided to her diary, she did not necessarily link her ideas to emigrating together with her parents. Above all, she wanted to get ahead musically. In the end, the family's last resort was Ecuador, South America, because only there could they obtain the necessary guarantee through one of their father's cousins. But Ursula was lucky. Her application to the Mannes School of Music was approved. By great coincidence she received a boat ticket from Guayaquil to New York, an affidavit could be obtained for her parents so that they could follow soon. From 1940 Ursula Mamlok lived 66 years, more than two thirds of her life, mainly in New York. She successfully graduated from the Mannes School, where George Szell was her composition teacher. However, the school did not award any final diplomas. Therefore, she later still enrolled at the Manhattan School of Music and had to go through the curriculum of classical composition disciplines there one more time.
What she was actually looking for, dealing with new music, she got to a certain extent through attending concerts and rehearsals and through a summer academy at Black Mountain College. There, the arts were taught in their mutual communication; for the everyday work, the academists had to provide themselves in accordance with the ideals of the Lebensrefom movement. That summer of 1944, Ursula Lewy wrote a fugue in A, which in its structural consistency and freely balanced harmony clearly surpassed works such as Hindemith's Ludus tonalis - a masterpiece in the way it used an old form to break free from traditional ties. The work that continued this stylistic state was the Concerto for Strings, composed six years later, which reflects an intense preoccupation with Béla Bartók, especially his music for stringed instruments, percussion and celesta. She composed out of a complete appropriation of Bartók's procedures; the "tone" of the work is her own. During the time she was writing the Concerto, she took lessons with the Polish émigré Jerzy Fitelberg, Schreker's master student in Berlin.
In this phase of her search for artistic orientation, Dwight G. Mamlok, whom she met and married in San Francisco in 1947, became an important support. Having emigrated from Hamburg to the United States via Sweden and Great Britain, he himself had not enjoyed any systematic musical training, but possessed the rare ability to tune into new music and form a confident judgment through receptive experience. A businessman by profession, first in his father's trading company, then in self-employment, he wrote short stories in English on the side and once also poetry: when his wife could not find suitable poems for a composition commission. The cycle The Andreas Garden allegorically reflects the situation that the Mamloks found in their summer residence in California near the Andreasgraben: Under the seductive beauty of the blooming nature lies the constant danger of violent earthquakes.
Own Style
The lessons with Fitelberg did not last long, he died in 1951. The lessons with Erich Itor Kahn were also short. Gunther Schuller, son of immigrants from Germany, Roy Harris, who had a good name in US symphonic music, Roger Sessions, Milton Babbitt and Stefan Wolpe, the former enfant terrible from the Berlin and Bauhaus cultural scene, are among the composers from whom Ursula Mamlok sought impulses and advice for her own composing. She finally found them in lessons with Ralph Shapey. What she wrote in his company since the early 1960s, she herself described as the first works of her actual style. They are characterized by agile and complex rhythms and by a constantly refined method of serial composition.
From this time on, a corpus of works emerged, mostly chamber and ensemble music with and without a human voice in a variety of changing instrumentations, from compositions for one instrument (not only piano, but also for flute, clarinet, violin, viola and cello) to larger instrumental groups. Outstanding orchestral works include the Constellations, which she wrote for the San Francisco Symphony Orchestra in 1993, the Concertino for woodwind quintet, percussion and strings, and the Oboe Concerto, which, composed in the mid-1970s, exists in three versions: with large orchestra, with chamber orchestra and with two pianos plus percussion. It is a major work because of the sovereignty of the compositional process, because of the avant-garde design of the solo part and because of the emotional intensity that has its center in the slow movement. Ursula Mamlok did not talk about emotional occasions and backgrounds of her own accord, even if the music indicated such. She closed them rather to herself, shared them with her husband and perhaps a close circle of friends. In this way, she protected her very own, her music and her feelings, against what might invade her from the outside. Thus she endured the stresses of emigration, the sometimes desperate situation in her first years of exile, and the tough struggles over what she actually had in mind musically. It is significant that she referred to the Shoah in only one work: Review. In memory of the Kristallnacht pogrom on November 9, 1938.
In her oeuvre there are nerve points where tendencies converge and from which lines emanate in different directions. Until her late years, she used a specific variant of the serial composition. This replaced for her, roughly speaking, the spatial-tonal thinking of the past, and served her as a means of turning the sound idea of a piece, which for her was always at the beginning of a composition, into a score. In the process, she came across certain serial forms that were particularly well suited to the elaboration of her ideas. She made use of them several times and in very different pieces. Some works are at least partially related to each other like variants of a basic constellation. Certain gestural imprints are similar to what Gustav Mahler once called "vocabulary".
She justified the relative conciseness and brevity of her compositions by stating that listening with full concentration for long periods of time was possible only for a few. With the complexity of her works, which is reflected above all in their rhythmic design and symmetry, she differentiated between the organization and the auditory image of the music. She attached great importance to temporal relations and time proportions, since they act as unconscious determinants of hearing. With her work, however, she aimed at direct communication. She did not see her compositions as messages in a bottle in the Adorno-esque sense, which future generations might be able to take up and understand. Compositional refinement and direct effect belonged together for her, even if a work is not limited to immediacy.
Berlin II
With her compositions and personal friendships, Ursula was part of the network of new music, which was mainly concentrated in the university and culture-oriented cities of the USA, developed on private initiative, and cooperated with universities, orchestras and festivals. Nevertheless, after the death of her husband in 2005, she decided not to stay in New York but to move to a retirement home in Berlin. There were several reasons for this. Most of her professional connections in the United States were with younger colleagues. Her own mobility, however, was increasingly restricted. Since the 1990s, her music has found increasing resonance in Berlin, and new, intensive artist friendships have formed. In Boosey & Hawkes she found a publisher who was committed to her work. In the last decade of her life she wrote a number of new compositions. But she also recognized that much of what she had written before her breakthrough in the early 1960s was an unmistakable expression of her musical thinking and had it published. For her 100th birthday on February 1 of next year, Ursula Mamlok's oeuvre will be carefully edited in all its many facets.
—Habakkuk Traber
(English text translated from the original German)
Photo: Simon Pauly

Boosey & Hawkes Composer News