US Summer Festival Highlights
(June 2021)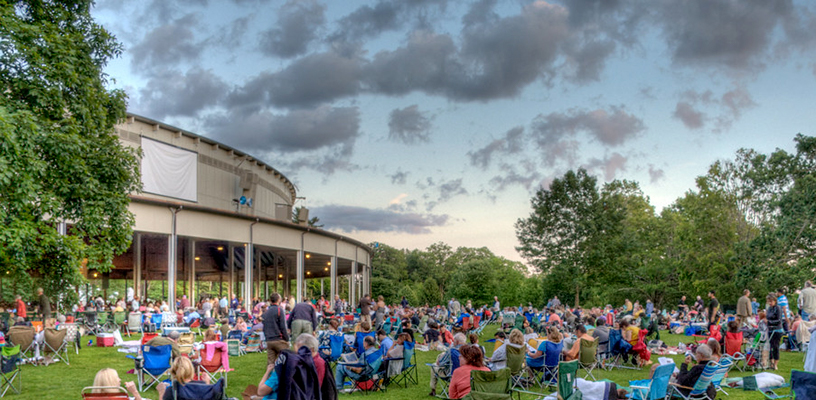 At long last, the music community in the US eagerly returns to live performance this summer. We've compiled a list of summer festival highlights, including orchestra, chamber music, and opera performances across the country.
Below is a list of performance highlights organized by presenting organization. See the list of performances in chronological order here.
Baltimore Symphony Orchestra
The Marin Festival—a salute to Maestro Alsop as she concludes her 14-year tenure with the Baltimore Symphony Orchestra—opens with a performance of Anna Clyne's much acclaimed cello concerto, DANCE, featuring cellist Inbal Segev, alongside Christopher Rouse's string work Concerto per corde—a piece Alsop says moved her to tears the first time she heard it.
The BSO also performs Clyne's Restless Oceans in June, a work that was composed for Alsop's Taki Concordia Orchestra and celebrates female power.
Jun 9  Anna Clyne, DANCE; Christopher Rouse, Concerto per corde
Jun 12  Anna Clyne, Restless Oceans
Jun 19  Alberto Ginastera, Variaciones Concertantes
Cabrillo Festival of Contemporary Music
Sean Shepherd pours meditations on climate change into a pair of works that will be presented together at the Cabrillo Festival: Melt, a lament on the disappearance of the world's glaciers, and its newly completed sequel, Sprout, a hopeful reflection on the resilience of forests after wildfire.
Aug 8  Sean Shepherd, Melt; Sprout (World Premiere)
Caramoor
Caramoor's new music–forward programming includes a highly anticipated concert by Chanticleer, which performs James MacMillan's "O Radiant Dawn." Caramoor's grounds are host to in"C", a site-specific sound-sculpture that plays specially composed music by Anna Clyne and other composers.
Jun 27  Aaron Copland, Appalachian Spring; Fanfare for the Common Man (Orchestra of St. Luke's)
Jul 23  James MacMillan, "O Radiant Dawn" from Strathclyde Motets (Chanticleer)
In"C": sound sculpture ft. Anna Clyne's Lullaby in C
Colorado Music Festival
This year, the Colorado Music Festival features beloved string quartet works by John Adams on two concerts: The St. Lawrence String Quartet plays his First Quartet, originally composed for the ensemble (July 20) and the Danish String Quartet performs John's Book of Alleged Dances (August 3), a droll collection of 10 dances.
Jul 15 & 16  Sergei Prokofieff, Classical Symphony
Jul 20  John Adams, First Quartet (St. Lawrence String Quartet)
Aug 1  Aaron Copland, Fanfare for a Common Man; Lincoln Portrait
Aug 3  John Adams, John's Book of Alleged Dances (Danish String Quartet)
Grant Park Music Festival
Anna Clyne, no stranger to Chicago audiences as previous composer-in-residence at the Chicago Symphony Orchestra, features on the Grant Park Music Festival line-up with her 2019 chamber orchestra work Sound and Fury, inspired by Shakespeare's Macbeth and Haydn's Symphony No. 60 ("Il Distratto").
Jul 14  Anna Clyne, Sound and Fury
La Jolla SummerFest
This year's SummerFest presented by La Jolla Music Society explores multiple themes across its chamber programs, from an uplifting, joyful program featuring John Adams's Road Movies, to a concert centered on virtuosity, including Stravinsky's Three Movements from Petrushka.
Jul 30  John Adams, Road Movies
Aug 1  Benjamin Britten, Cello Sonata; Igor Stravinsky, Three Movements from Petrushka
Aug 7  Aaron Copland, Appalachian Spring
Aug 8  Leonard Bernstein, Prelude, Fugue, and Riffs
Aug 11  Sergei Rachmaninoff, Symphonic Dances for two pianos
Mizzou International Composers Festival
Ensemble-in-residence Alarm Will Sound and tenor Karim Sulayman give a first preview of David T. Little's new monodrama What Belongs to You, based on Garth Greenwell's acclaimed novel. The Mizzou New Music Ensemble perform descanso (waiting), a reflective work based on a Spanish tradition of mourning.
Jul 27  David T. Little, What Belongs to You (opera preview)
Jul 28  David T. Little, descanso (waiting)
Ojai Music Festival
John Adams brings a joyful sense of adventure and curiosity to the Ojai Music Festival as music director of its 75th season. Concerts fix a wide lens on today's musically diverse landscape of dynamic performers and creators—highlights include the Attacca Quartet playing works by Adams, Rhiannon Giddens, Jessie Montgomery, and others; pianist Timo Andres performing I Still Play, a series of solo piano works written by several different composers as a tribute to Nonesuch Records President Bob Hurwitz; and Rhiannon Ghiddens performing songs from Adams operas.
Sep 16-19  John Adams: Music Director at Ojai Music Festival
Opera Theatre of St. Louis: New Works, Bold Voices Lab
In June, Opera Theatre of Saint Louis presents the world premiere of Steve Mackey and Rinde Eckert's 25-minute chamber opera, Moon Tea—a colorful, witty retelling of the historic 1969 meeting between the British royal family and the Apollo 11 astronauts upon their return from the moon.
Jun 10-18  Steven Mackey, Moon Tea (World Premiere)
Santa Fe Chamber Music Festival
Santa Fe Chamber Music Festival's adventurous programming includes beloved chamber classics by Bartók and Britten alongside Festival-commissioned works by Brett Dean and Sean Shepherd. Composer and chansonnier HK Gruber performs his own Frankenstein!! with a chamber orchestra led by Santa Fe Symphony Principal Conductor Guillermo Figueroa.
Jul 20  Béla Bartók, Contrasts, Op. BB116
Jul 21  Brett Dean, Imaginary Ballet (US Premiere)
Aug 10  Benjamin Britten, Holiday Diary
Aug 11  HK Gruber, Frankenstein!!; Benjamin Britten, Phantasy Quartet
Aug 12  Sean Shepherd, new work (World Premiere)
Santa Fe Opera
Santa Fe Opera closes its summer season with the company premiere of Britten's A Midsummer Night's Dream—a new production directed by Netia Jones, conducted by Harry Bicket, and starring soprano Erin Morley (Tytania) and countertenor Iestyn Davies (Oberon).
Jul 31-Aug 25  Benjamin Britten, A Midsummer Night's Dream
Tanglewood Festival
The Boston Symphony Orchestra welcomes audiences back to its highly anticipated summer festival with orchestral classics like Stravinsky's Pulcinella Suite and Copland's Quiet City. The 2021 Festival of Contemporary Music on July 25-26 includes a performance of Reich/Richter, composed by Steve Reich as the musical counterpart of a film by artist Gerhard Richter and filmmaker Corinna Belz.
Jul 19  Igor Stravinsky, Pulcinella Suite
Jul 24  Aaron Copland, Quiet City
Jul 25  Sean Shepherd, Seagulls on High
Jul 26  Steve Reich, Reich/Richter
Jul 31  Igor Stravinsky, Concerto for Piano and Wind Instruments
TIME:SPANS
Talea Ensemble gives the world premiere of Bettison's La Arqueología del Neón, a small ensemble piece for winds, percussion, and strings that embraces the brash and intense quality of neon.
Aug 23  Oscar Bettison, La Arqueología del Neón (World Premiere)
Yellow Barn
Yellow Barn dedicates a full week of concerts to the chamber music of resident composer James MacMillan. Programs include MacMillan's Horn Quintet, Why is this night different (String Quartet No. 2), and O Radiant Dawn. Other festival highlights include Steve Mackey's flute quartet Humble River and Cairn for solo guitar (performed by Mackey himself); and Brett Dean's Seven Signals which focuses on the power of non-verbal communication by recreating the sounds of distress signals at sea, SOS Morse code, and scratched texts on prison cell walls.
Jul 15  Steven Mackey, Humble River; Cairn
Jul 27  Brett Dean, Seven Signals; Gideon Klein, String Trio
Jul 29  Claude Vivier, Hymnen an die Nacht
Aug 2-7  James MacMillan: Composer Residency at Yellow Barn
Photo: Tanglewood Music Festival

Boosey & Hawkes Composer News