Turnage: From the Wreckage travels with Hardenberger
(December 2005)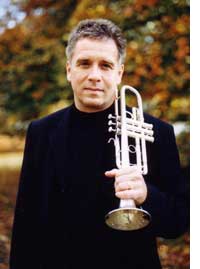 Turnage: From the Wreckage travels internationally with Hardenberger
Mark-Anthony Turnage's compact new trumpet concerto, From the Wreckage, has been travelling internationally with Håkan Hardenberger as soloist.



Premiered in the final concert of the Helsinki Festival in September, the work was then toured by the Helsinki Philharmonic and Esa-Pekka Salonen to the BBC Proms in<?xml:namespace prefix = st1 ns = "urn:schemas-microsoft-com:office:smarttags" /><st1:city w:st="on"><st1:place w:st="on"> London</st1:place> </st1:city>. The Swedish premiere was given by the Gothenburg Symphony Orchestra under Peter Eötvös followed by a recording for Deutsche Grammophon. The 15-minute single movement work is not only a virtuoso vehicle for Hardenberger but also plots a powerful musical course from low to high – both in terms of register and mood.

"The concerto depicts a psychological journey from sorrow to calm via barely repressed anger and rage, its emotional trajectory delineated by the fact that Hardenberger opens the work playing a dark-sounding flugelhorn, which he changes first for a standard trumpet during the agitated central section, then for an ethereal-sounding piccolo trumpet in the closing pages."
The Guardian

"The highlight was From the Wreckage… this was outstanding: a kind of rebirth piece in which the music begins hellishly but gradually picks up a bluesy swing as the soloist rhapsodically spirals higher and higher. I was mesmerised."
The Times

Turnage new works
The premiere of Turnage's Hidden Love Song for saxophone and orchestra, featuring soloist Martin Robertson and the London Philharmonic Orchestra conducted by Marin Alsop, takes place on 30 January at the Queen Elizabeth Hall in London. The ten-minute work is further fruit from his composer residency with the LPO, and is co-commissioned by the Risor Festival in <st1:country-region w:st="on">Norway</st1:country-region> and the Rhine State Philharmonic in <st1:city w:st="on"><st1:place w:st="on">Koblenz</st1:place></st1:city>. Turnage continues his close association with the Nash Ensemble: following the recent Onyx disc including Eulogy and Two Baudelaire Songs, the group will unveil his Bleak Moments for horn and string quartet at the Wigmore Hall on 22 March.

International highlights over the coming months include a new asteroid, Ceres, for Simon Rattle's Planets project with the Berlin Philharmonic (16 March), the Swedish premiere of the clarinet concerto Riffs and Refrains in Malmo (16 March), and the Dutch premiere of A Relic of Memory at the Concertgebouw in Amsterdam in the Saturday Matinee series (20 May).

<st1:city w:st="on"><st1:place w:st="on">Chicago</st1:place></st1:city> composer residency
In addition to his LPO position, Turnage starts a prestigious two season residency with the Chicago Symphony Orchestra in the autumn. He will have works programmed on the orchestra's main subscription series, including a new commission for next season, will work with CSO musicians to curate MusicNOW new music concert, and will be actively involved in educational, audience and community events.
> Further information on Work: From the Wreckage
Hakan Hardenberger photo: Kenet Ruona

Boosey & Hawkes Composer News