Transforming 500 years of music: the arrival of nkoda
(June 2018)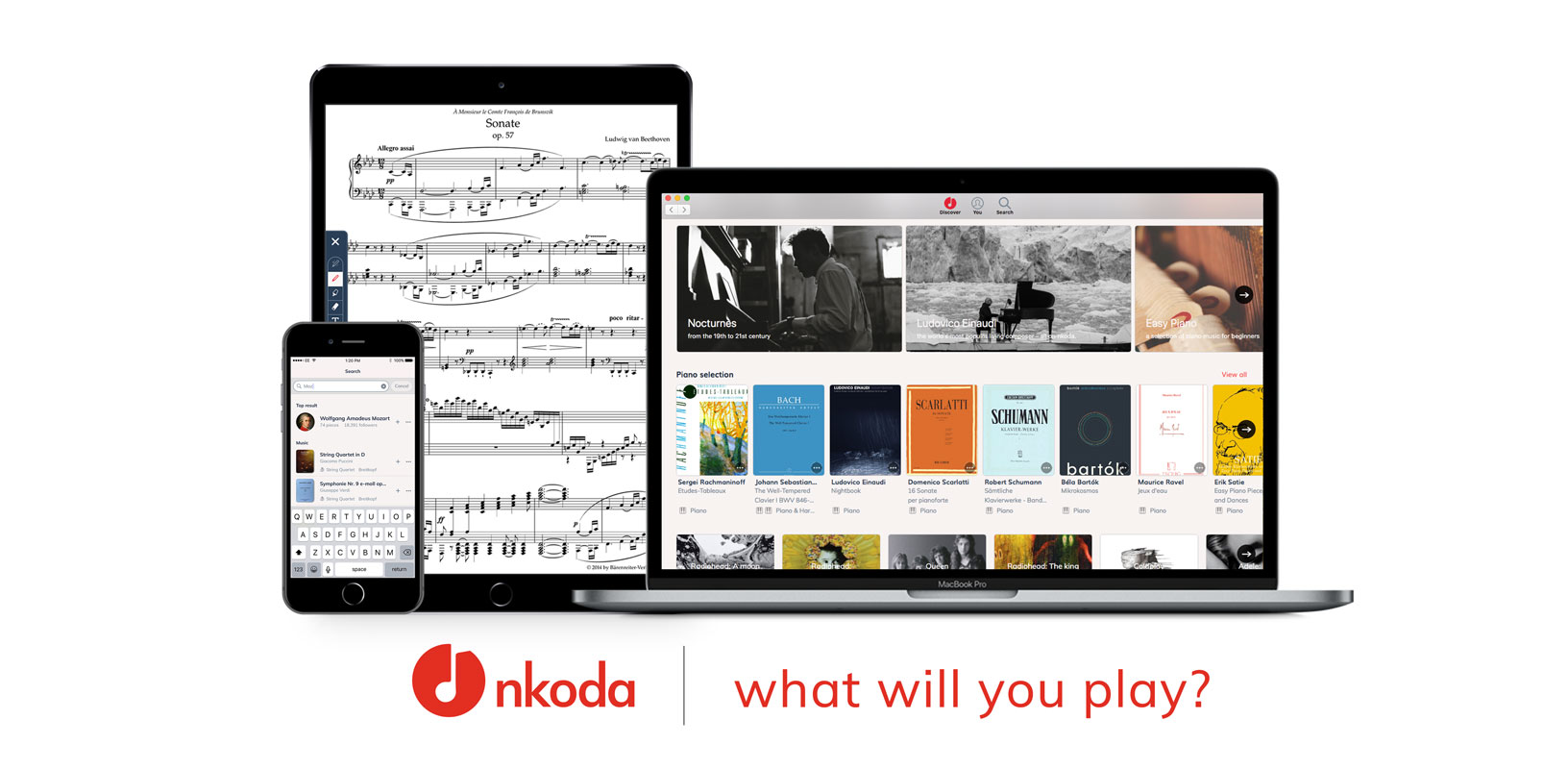 Music from the Boosey & Hawkes catalogue is now available from nkoda, the new subscription service for digital sheet music, launching this week on iPad.
nkoda, a new sheet music subscription App, with 35 million pages of music, is launching this week on iPad, and will be available to download from iTunes from Friday 8 June. Versions for Android, Mac OS, Windows 10 and iPhone follow in the next few weeks.

Boosey & Hawkes linked up with nkoda soon after its inception in 2015, and has supported it throughout its development. Like nkoda's founder, Lorenzo Brewer, the B&H team led by John Minch (CEO, Boosey & Hawkes / President, Publishing, Europe, Concord Music) shares nkoda's mission: to bring digital sheet music to a global market and to users of all ages. Available now in English, nkoda will soon launch versions in Chinese, Spanish, Russian, French, German, Portuguese, Italian, Japanese and Korean.

The catalogue of 7,000 Boosey & Hawkes scores, built from the company's earliest days to the present time, and from John Adams to Iannis Xenakis, was the first to be licenced to nkoda. 49 other publishers from across the world have followed our lead, and more are joining the platform every month. Each score is available in full; in conductor's version and with all performing parts: 70,000 in total, and with more added by nkoda's team of musicologists every day.

nkoda is available for a monthly subscription. The App's guiding principle, shared by Boosey & Hawkes, is that it is made for musicians. A musician himself, founder Lorenzo Brewer has insisted on features that musicians need, whether they are professionals or learners, conductors or singers. Sundar Venkitachalam, nkoda's CTO and Co-Founder, has used artificial intelligence to drive nkoda's search, discovery and share tools. Scores can be pre-loaded for offline use, annotated and shared with other subscribers, and playlists can be stored and shared. Subscribers' own music can be uploaded and integrated into the library.

Since January this year, nearly 1000 professionals and amateurs - conductors, players, teachers, academics and students - have been testing nkoda, and beta testers are now needed for the new Android, Mac OS, Windows 10 and iPhone versions. If you'd like to take part or find out more information about the App, go to www.nkoda.com.

Boosey & Hawkes Composer News