Tod Machover: Giving Voice to Philadelphians
(April 2018)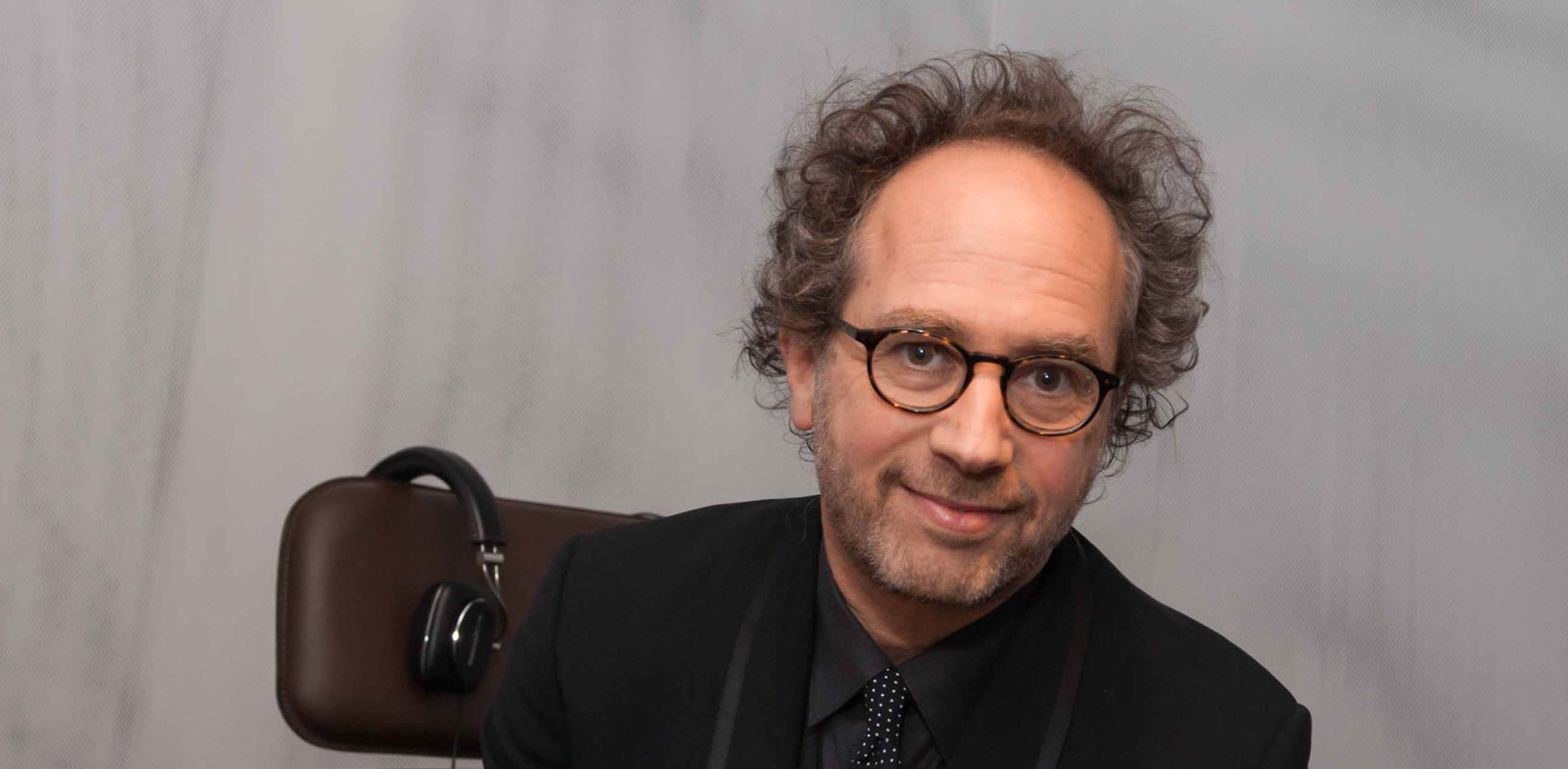 Tod Machover's Philadelphia Voices—the most recent installment of his "City Symphonies"—is set to premiere with the Philadelphia Orchestra on April 5. Read below for an excerpted interview with Machover conducted by writer Margaret K. Evans. The full interview is available on MIT Media Lab's website.
Tod Machover's Philadelphia Voices premieres on April 5, 2018, with The Philadelphia Orchestra, led by music director Yannick Nézet-Séguin, featuring 250 singers from Philadelphia-area choruses (Westminster Symphonic Choir, Keystone State Boys Choir and Pennsylvania Girlchoir, Sister Cities Girlchoir). There will be additional performances on April 6 and 7 at Philadelphia's Kimmel Center. The final performance of Philadelphia Voices will take place on April 10 in New York at Carnegie Hall, marking the first presentation of a City Symphony given outside the city for which it was written.

How did Philadelphia Voices come about?
Five years and eight cities ago, we mounted our first project in the Opera of the Future group's City Symphonies series. We hadn't planned it; the idea sprang from serendipity.

In 2012, the Toronto Symphony Orchestra invited me to curate their annual festival and compose a piece for the event. I knew that they were an adventurous orchestra and that in asking me they wanted something unusual. As I considered how to create a musical portrait of Toronto, I knew I'd do it by listening to the city … and its people.

What was needed, I thought, was a way of creating a much broader cultural ecology where people who didn't know a lot about music and people who knew more and the top people in the profession could all not just communicate but truly collaborate to make something extraordinary together. So, I went back to the orchestra and said that I wanted to incorporate real city sounds into the symphony, and I also wanted to invite the entire city to help me make the piece. The orchestra said yes.

Then my Opera of the Future research group and I had to figure out how to actually do this. In doing so, the City Symphony idea was born. That first project in Toronto, which premiered in March 2013, was an invigorating success, and we went on to create City Symphonies in Edinburgh, Perth, Lucerne, and Detroit, among other places.

How does Philadelphia Voices differ from your other City Symphonies?
The music director of The Philadelphia Orchestra, Yannick Nézet-Séguin, approached me. He'd heard about what we'd done with the other cities and wondered if we'd like to do a project in Philadelphia. He said, "You know, Philadelphia has a great vocal tradition. Would you be willing to consider looking at this through the angle of the voice?" I immediately understood "voice" in the broadest sense—not only the diversity and richness of singing but also the way our voices reveal so much about us as individuals and communities. I said to Yannick: "Of course I'll do it!"

The other difference was the context of the time. We first talked about a Philadelphia City Symphony in early 2016 when the US presidential campaign was in full throttle. I could tell well before the November election that something was awry and that the whole political and civic discourse was shocking. So, it occurred to me that since democracy started in Philadelphia and the Declaration of Independence and the Constitution were written there, it seemed like a perfect place and time to explore the state of democracy through music—where we are and where we could be.

How did you initially approach the project?
An important step for me is to explore the city. What I like to do is go to a place alone, without anybody showing me around. I just watch and listen with no preconceptions at all. I then try to find out what issues and questions are most important to people, what sparks anguish and hope. It's a combination of who's there, what the place sounds like, and what the "story" turns out to be.

Philadelphia is an incredibly gritty, unpretentious, authentic place where people are completely forthright. But it's also a very big city, very spread out and diffuse. It was disconcerting at first because I would ask people, "What do you think about Philadelphia? What do you like? What do you hate?" It was difficult to get people to say anything, unlike in any of the other cities where we've worked. I realized little by little that Philadelphia is a very local place with distinct neighborhoods as small as the block you live on, or even the building or house you live in, kind of like in the movie Rocky.

A lot of people didn't even really think of the city as a whole, even though I've never seen a place where so many people have such a strong sense of civic engagement. Our many partners understood our project right away because lots of them had been working hard for a very long time to develop programs that give back to the city and connect people in powerful ways. It's really quite something because in a lot of places these days people talk about being civic-oriented but in Philadelphia, this attitude is turned into action in many ways, day in and day out.

I remember when I first went to Philadelphia for this project, it wasn't long after the Pope had visited for the World Meeting of Families when a massive crowd had gathered to celebrate Mass on Benjamin Franklin Parkway. The Philadelphia Orchestra played that day, and its members told me that the experience of being there with a million other people and hearing the choirs singing together was something they would never forget. So, they asked me if I could do something even bigger than that, with my crazy musical ideas and all of our wonderful Media Lab technology.

I said I would try. I am never one to shirk from a challenge, not even a Pope-sized challenge! So that papal visit came to represent what it means to be an individual connecting to a local community and then to something expansively worldwide. Creating a visceral, musical sense of what that expansion feels like became a driving force for Philadelphia Voices.

What was the process for crowdsourcing the sounds and music for Philadelphia Voices?
While I wanted to make something that would feel like my piece, of course, I also wanted for everybody who participated to have a sense of ownership. It wouldn't be just crowdsourcing where I'd manipulate other people's stuff, but something that we all would make together.

With our partners, including the orchestra, as well as via the local press and social media, we got the word out about how people could participate; not just the singers in the choruses but also anyone and everyone in the broader community. For about a year, I and my team from the Media Lab's Opera of the Future group traveled often to Philadelphia to talk about the project, to meet people, to collect sounds and texts, to absorb the history and understand the present, and to contemplate the forces that might shape the city's future.

Based on our explorations in Philadelphia, we extended software designed for other City Symphonies, such as Constellation by my student Akito van Troyer. We designed a special mobile app called Philadelphia Voices that made it easy for anyone to contribute audio or video of the city, and we developed a software environment called Nebula, by student Rébecca Kleinberger, which lets anyone use their voice to access and shape a multitude of other "voices" of the city.

I received sounds from all over Philadelphia—from parks and crowd chatter, waterfront, and nature sound—and with my students, I explored many corners of the city. It now feels as if I met every single Philadelphian, each of whom had a story to tell, although that probably isn't quite true. We accumulated, edited, and selected from a truly enormous sonic library of sizzling cheesesteaks, Super Bowl celebrations, Constitution birthday events, Mummers Parades, rare birds at the zoo, and much, much more.

This process of looking, seeing, talking, and then listening to things is really powerful. People can feel and communicate things through music that they couldn't or wouldn't do any other way. This Philadelphia Voices project has been an opportunity to make a whole community think and feel differently about the possibilities of their city—through music and through technology that allows anyone to interact with anyone else in a very fresh and unusual way.

What was your process for composing the ultimate piece?
In Philadelphia, unlike previous city symphonies projects, I realized that I needed words because the chorus is such a central element of the symphony. So, a major part of the project was to inspire, collect, and then assemble original texts from a wide range of Philadelphians. I did interviews with historians, workshops with teenage writers, discussions in elementary schools about democracy, bicycle rides throughout the city with poet-guides to engage in conversations with people we encountered, and countless other interventions to listen, to learn, and to annotate.

It was amazing. All over the city, people created songs and sounds, words, and wonderful surprises. I ended up with so much material that I was literally overwhelmed by about early December. What to do with all this? What story was emerging? What sounds and texts would be central to our Philadelphia story? I ended up with a big symphony—about 30 minutes long—with seven contrasting movements to be performed by quite an army onstage: the full Philadelphia Orchestra, several hundred singers, a massive audio system specially designed by my student Ben Bloomberg, all conducted by Yannick Nézet-Séguin.

Philadelphia Voices takes listeners on a journey—from the massive celebrations for the papal visit and the Philadelphia Eagles' Super Bowl victory; to overlapping stories of history, music and invention; to a wild block party that fills the whole city; to a desperate cry to listen to voices unheard; to a freeform musical exploration of democracy; and finally to a "hymn of brotherly and sisterly love" that evokes William Penn's unfinished, utopian dream for Philadelphia, which can still guide Philadelphians and all of us to a better society.

It took a long time for this form to emerge, but to me, it sounds and feels like Philadelphia, like a way forward for the rest of us from the vantage point of this city that has been called "America's great experiment." […]

My deepest hope is that some essential part of what I have seen and heard in Philly will resonate with Philadelphians, that it will provide a fresh view of the many hidden wonders of this great city, open up new possibilities for optimism and engagement, create new contexts for citizens to listen to the city around them—and, more importantly, listen to each other—in powerful and productive ways.

> Read the full interview on MIT Media Lab's website.
> Further information on Work: Philadelphia Voices
Photo: Phase One Photography

Boosey & Hawkes Composer News