Stravinsky and the Modern Age - 50th anniversary in 2021
(November 2020)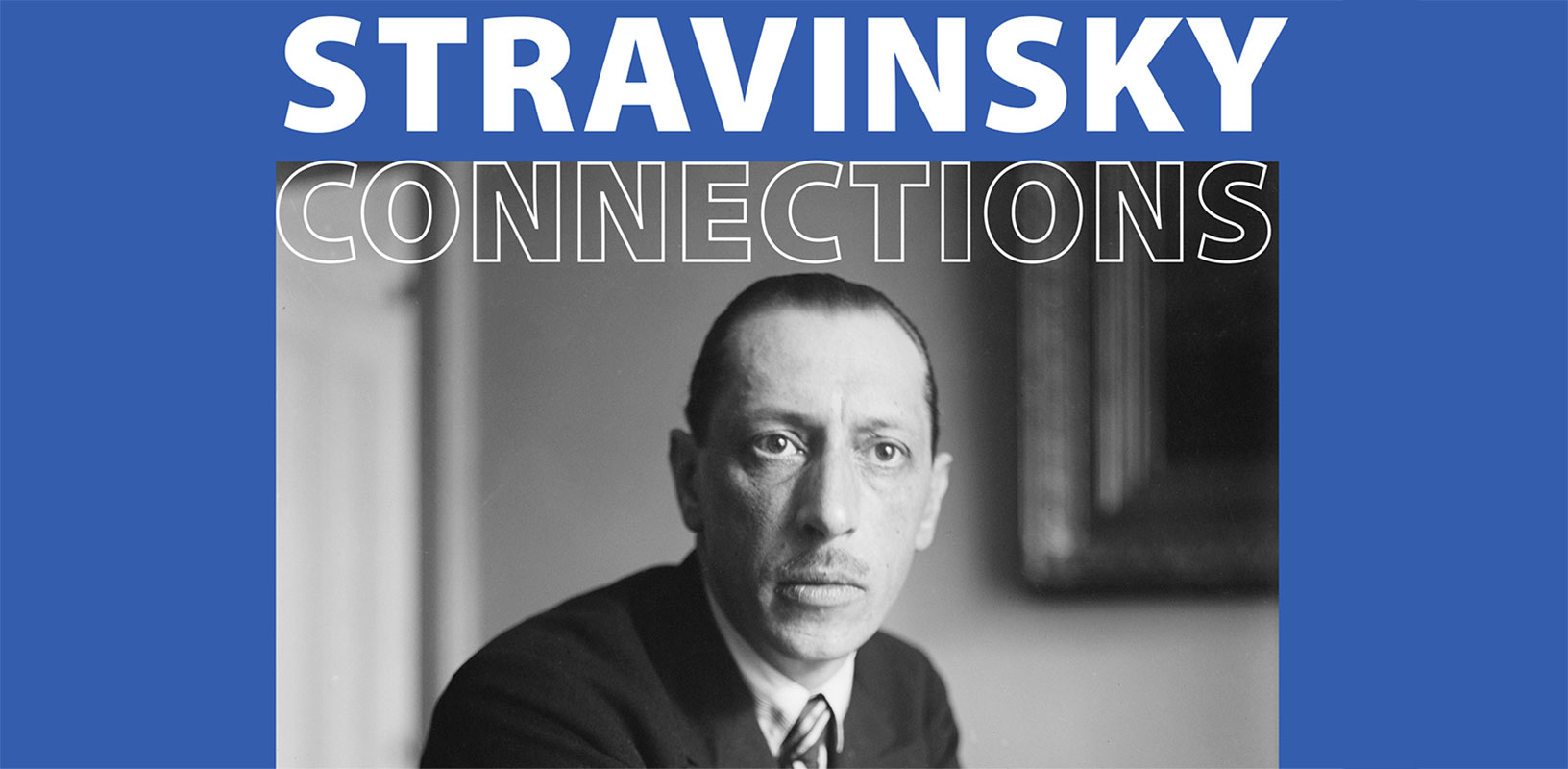 Jonathan Cross explores Stravinsky's relationships with his composing contemporaries and the influence of his works and aesthetic ideals upon later generations, from Britten, Copland and Messiaen to contemporary composers such as Reich and Birtwistle.
'Everyone, after all, has been influenced by Stravinsky'. These are the words of the living Dutch composer Louis Andriessen. Now, that statement's certainly true of Andriessen, whose own music – in its harmonic, rhythmic and theatrical practices – seems to owe so much to his great Russian predecessor. But aren't Andriessen's words just a bit of an over-statement? Well, maybe just a little! Yet, from Stravinsky's immediate contemporaries at the start of the 20th century – figures such as Bartók, Debussy, Prokofiev – through the generations of Messiaen, Carter, Boulez and Birtwistle to younger creative artists working today – there's plenty of evidence of composers sitting up and taking notice of what Stravinsky did, and then reinterpreting it, running with his ideas for themselves. It's hard to think of another figure who's had quite this impact on the recent musical world.
The immediate shock of The Rite of Spring, for example, with its primitive or mechanised rhythms, can be found in such works as George Antheil's Ballet mécanique, Prokofieff's Scythian Suite and Varèse's Amériques. Elsewhere, there's a cool, classical French Stravinskianism led by Poulenc, such as in his Gloria, and across the work of the other members of the group of composers known as Les Six. Boston Massachusetts after the Second World War was home to a gathering of neoclassicists, named by Copland as the 'Stravinsky School', and including Berger, Bernstein, Fine and Shapero. Copland himself was dubbed 'The American Stravinsky'. Many later composers, too, have taken the primitive and ritualistic, the mythic and dramatic in Stravinsky and turned it to their own purposes. A Stravinskian harmonic and rhythmic world can still be found in music as diverse as that of minimalists like Reich and Adams, or Michael Gordon and David T. Little who fuse Stravinsky with rock and pop, or composers like Anna Clyne and Elena Kats-Chernin, whose styles in different ways respond to the playful folk-inspired Stravinsky to produce a music full of vibrancy and colour. So let's look a little more closely at Stravinsky's relationship with some of these composers, and the often intriguing interplay between them.
And we'll start with Frenchman Claude Debussy, who along with Stravinsky and Schoenberg was one of the most important and influential composers at the end of the 19th and the beginning of the 20th century. The early part of Stravinsky's career was closely intertwined with that of Debussy, twenty years his senior, not least through their shared involvement with the Ballets Russes company. The young Debussy had been deeply impressed by Russian music, especially that of Mussorgsky. The young Stravinsky first encountered Debussy's music at the Evenings of Contemporary Music in St Petersburg. The two composers met at the premiere of the Firebird in Paris, and Debussy expressed his admiration for both Petrushka and The Rite of Spring – indeed, he himself played The Rite with Stravinsky in a run-through of its four-hand piano version ('it haunts me like a beautiful nightmare', Debussy declared). Debussy's ballet Jeux [Games], choreographed and danced by Nijinsky in the year 1913 just like The Rite of Spring, shows clear evidence of the influence of Petrushka in its innovative, mosaic-like structure, while later Debussy too, in its radical use of forms and scales, is also written in the shadow of Stravinsky.
The Hungarian Béla Bartók and Stravinsky were almost exact contemporaries and shared similar early influences. Both came under the spell, to differing degrees, of late-romantic German music as well as that of Debussy. Both were fascinated by their respective native folk cultures and incorporated this into their music. But whereas Stravinsky quickly turned in other directions, Bartók continued to study Eastern European folk material methodically, and this understanding informed deeply his compositional thinking. The rhythmic language of Bartók's music has much in common with Stravinsky's, even though it developed independently. Nonetheless, The Rite of Spring impressed Bartók, and echoes can be heard in the ballet The Miraculous Mandarin, whose exotic and violent subject matter occupies similar territory.
The Russian Sergey Prokofieff first met Stravinsky in 1910 in St. Petersburg at the Evenings of Modern Music, and from then on, his creative reputation was forever entwined with that of Stravinsky, nine years his senior. Prokofieff left Russia for America after the October Revolution; unlike Stravinsky, however, he tolerated the Bolsheviks, and returned to live and work in the Soviet Union after 1936. The relative 'simplicity' of his own brand of neoclassicism, beginning with the 'Classical' Symphony of 1917, found favour (to an extent) with official Soviet cultural policy. In his Scythian Suite and Le Pas d'acier, both originally Diaghilev commissions for the Ballets Russes, Prokofieff managed to capture the two faces of Stravinsky's modernism, namely the primitive, ancient rite and the proto-futurist representation of the mechanical.
The most famous work by German Carl Orff is undoubtedly Carmina Burana, a setting of texts from a medieval German manuscript, whose sounds can today be heard everywhere in films, TV shows and commercials. In this work, as elsewhere in Orff, the music is highly 'Stravinskian' in its ritualistic use of refrain structures, driven rhythms and simple fifth-based harmonies, though it has to be said it's far less complex than, say, Stravinsky's Les Noces, from which it would appear to borrow extensively.
I could also talk of Nadia Boulanger, who was a highly influential teacher of composition and who worked alongside Stravinsky for a period at the École normale de musique in Paris. I could talk of Olivier Messiaen, another influential teacher at the Paris Conservatoire, for whom The Rite of Spring offered an infinite well of ideas. I could talk of Pierre Boulez, who, as a student, led noisy protests against Stravinsky's neoclassical music in Paris, but who later, as a conductor, became one of the great interpreters of Stravinsky's works. And in his own music, too, it's clear he was inspired particularly by Stravinsky's rhythmic practices. I could talk of Benjamin Britten on whom Stravinsky's neoclassical music left its mark in Britten's formal and harmonic thinking: Apollo was a key influence on Britten's emerging voice in the 1930s. And I could talk of John Williams's film scores such as Jaws, or Charlie Parker's quotes from Stravinsky ballets, or Ornette Coleman, Alice Coltrane and Joni Mitchell, or Frank Zappa or Björk.
Perhaps not everyone has been influenced by Stravinsky, as Andriessen claimed, but it's clear that very many have been! Stravinsky's musical legacy continues to echo across the worlds of classical and contemporary music, film and theatre, ballet and jazz. His innovations in harmony, rhythm and form; his approach to drama; his attitude to the musical past – all this has, in many senses, shaped an entire century of artistic creation. More than that, Stravinsky has given other artists the tools by which to engage afresh with the changing world around them. Fifty years since his death, we're really only just beginning to take stock of the importance of the music of Igor Stravinsky.
Jonathan Cross is Professor of Musicology at the University of Oxford. His acclaimed volume The Stravinsky Legacy was published in 1998, he is editor of and contributor to the Cambridge Companion to Stravinsky (2003), and author of a critical biography of Stravinsky for Reaktion Press (2015).
If you have plans for events celebrating Stravinsky 2021 please contact us at [email protected] so we can include details in our calendar.
Also read:
> Stravinsky Today
> Stravinsky and the Stage
> Stravinsky: Myth, Faith and Memory
> Stravinsky in the New World
> View our Stravinsky Connections catalogue on Issuu
Photo: WikiCommons

Boosey & Hawkes Composer News