Stravinsky Connections Podcast: five episodes honour 50th anniversary
(January 2021)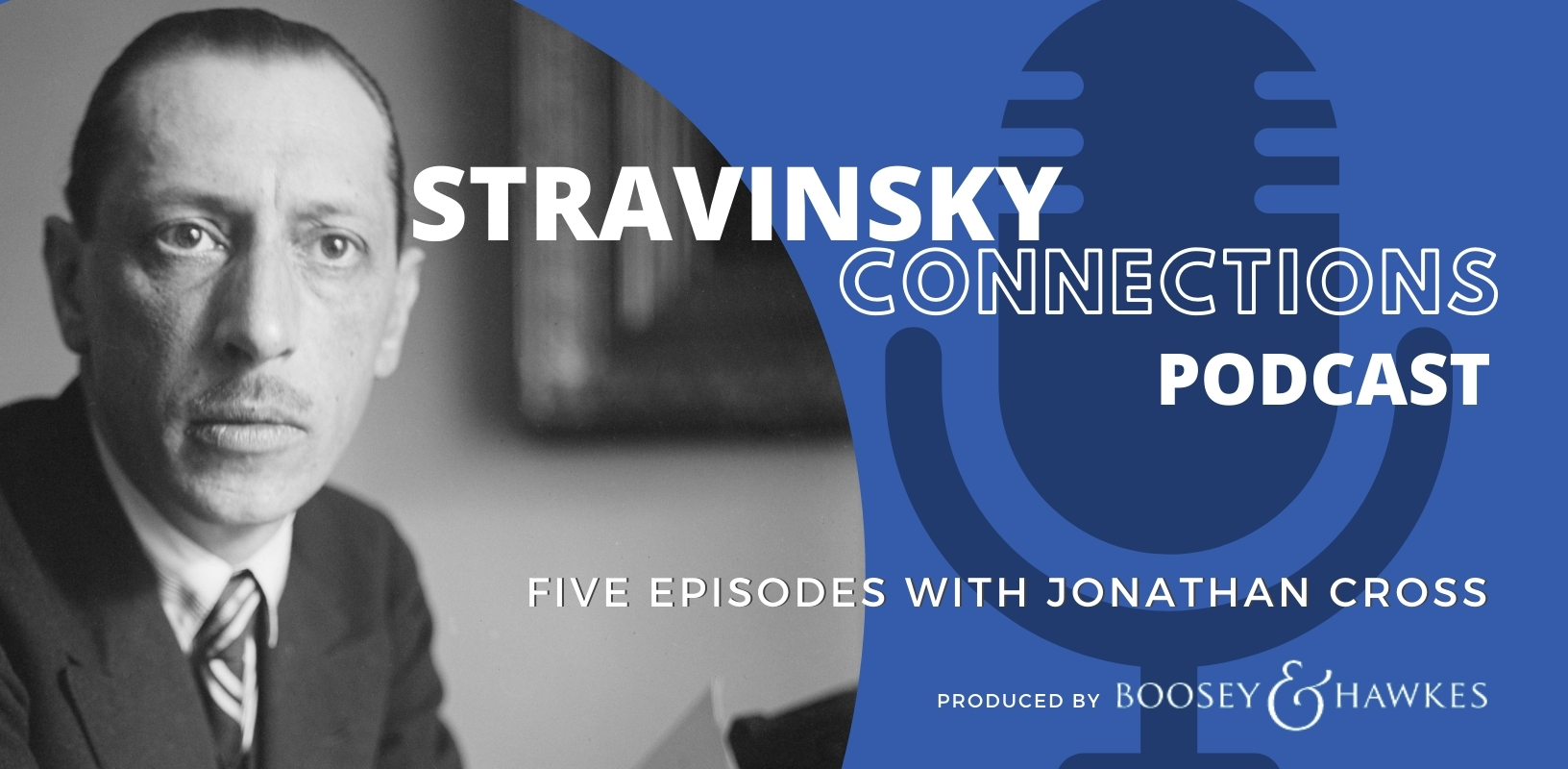 Boosey & Hawkes presents a series of audio podcasts in honour of the 50th anniversary of the death of Igor Stravinsky, one of the 20th century's most iconic composers. The five weekly episodes, commencing 29 January, are hosted by Jonathan Cross, a respected authority on Stravinsky, who invites listeners to explore this colossus of modern creativity.
Are you discovering Stravinsky for the first time, or returning in 2021 to the music of a lifelong favourite? We invite you to listen to a new series of audio podcasts, presented by his publisher Boosey & Hawkes in honour of the 50th anniversary of his death. Each of the five short episodes is hosted by Jonathan Cross of Oxford University and author of a recent critical biography of the composer.
Stravinsky's achievement is revealed by Jonathan Cross, 50 years on, with a selection of musical examples illustrating the extraordinary range of his works. Stravinsky's deep fascination with time and rhythm is explained and the podcasts explore his wider interests across art, literature, myth, faith, dance and jazz. We join the composer's journey, from 19th century Russian romanticism, through a sequence of pioneering ballets and a new look at classical traditions in the 1920s and 30s, to a radical post-war reinvention in the USA. Stravinsky's legacy is reassessed and his complex connections with other composers charted throughout his lifetime and beyond.
Jonathan Cross comments: "It's been a great pleasure to work with Boosey & Hawkes to think afresh about the music of Stravinsky in his 50th anniversary year. With so much music vying for listeners' attention today, how do you interest new, younger audiences in Stravinsky? And how do you invite those already familiar with the music to listen with new ears? The joy of Stravinsky's output is its variety – of medium, style and expression. What we've tried to do in these podcasts is capture some of this remarkable range, and to put Stravinsky's work in its context. I do hope they offer a helpful 'way in' to the music."
The podcast series is intended to provide a valuable resource on Stravinsky for teachers and students. In the UK The Rite of Spring is listed in the New Directions section of Edexcel A Level Music and neo-classical style is listed as a Focus for Learning in OCR A Level Music. The podcasts can also provide a useful summary on the composer for students undertaking university courses in Music and Performing Arts.
The podcasts will be available from your favourite apps including Spotify, Apple Music and from www.boosey.com/audiovisual.
> For latest updates visit our Stravinsky Connections Podcast page.
Stravinsky Connections Podcast
Episode 1: Stravinsky Today    > LISTEN NOW
Stravinsky's ongoing significance and influence, a half century after his death, is reassessed from a safe objective distance.
Music includes Funeral Song, Requiem Canticles, The Rite of Spring.
Episode 2: Stravinsky and the Stage    > LISTEN NOW
Stravinsky's relationship with the stage, both ballet and opera, is examined, including collaborations with Diaghilev, Auden and Balanchine.
Music includes Pulcinella, The Rake's Progress, Apollo.
Episode 3: Stravinsky - Myth, Faith and Memory    > LISTEN NOW
The roles of myth, faith and memory in Stravinsky's works is explored, from Russian chant to Greek classicism.
Music includes Mavra, Symphony of Psalms, Oedipus Rex.
Episode 4: Stravinsky in the New World    > LISTEN NOW
This episode looks at Stravinsky's works created after his relocation to the New World, embracing jazz, serialism and Disney.
Music includes Agon, Ebony Concerto, The Rite of Spring.
Episode 5: Stravinsky and the Modern Age    > LISTEN NOW
Stravinsky's interaction with composers shaping the Modern Age is explored, from Debussy, Prokofieff and Bartók through to contemporary music.
Music includes De Tijd (Andriessen), Jeux (Debussy), Mikrokosmos (Bartók), Scythian Suite (Prokofieff), Metamorphoses (Britten), Petrushka (Stravinsky).
Music licensed courtesy of Chandos Records Limited, Edel Germany GmbH, Naxos Music UK Limited, Nonesuch Records, LSO Live, Telarc International.
Director: David Allenby
Production: Sirikorn Green
> Listen to the featured music on our Stravinsky Connections Playlist.
About Jonathan Cross
Jonathan Cross is Professor of Musicology at the University of Oxford. His acclaimed volume The Stravinsky Legacy was published in 1998, he is editor of and contributor to the Cambridge Companion to Stravinsky (2003), and author of a critical biography of Stravinsky for Reaktion Press (2015). He was Series Consultant to the Philharmonia Orchestra for the 2016 series Stravinsky: Myths and Rituals, which won the Sky Arts Classical Music Award 2017. He is also a Research Associate at IRCAM, Paris, and an elected Member of the Academy of Europe.
Press contacts
David Allenby (VP, Publicity & Marketing)
[email protected]
Bronte Larsen-Disney (Publicity & Media Co-ordinator)
[email protected]

Boosey & Hawkes Composer News