Sofia Gubaidulina works spotlit at UK festivals
(July 2019)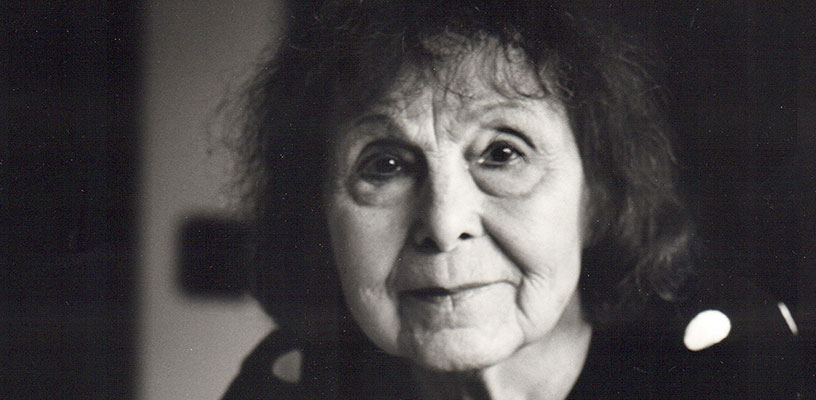 The music of Sofia Gubaidulina is featured at UK festivals in August, with the UK premiere of Glorious Percussion at the Edinburgh International Festival and Fairytale Poem at the BBC Proms.
Sofia Gubaidulina's extraordinary percussion concerto Glorious Percussion receives its UK premiere at the Edinburgh International Festival on 8 August. The concert at the Usher Hall features the Colin Currie Group and the BBC Scottish Symphony Orchestra conducted by Thomas Dausgaard. The concert will be recorded, for broadcast on BBC Radio 3 on Tuesday 17 September 2019 at 7.30pm.
Scored for percussion quintet and orchestra, Glorious Percussion dates from 2008 and was premiered under the baton of Gustavo Dudamel with the Gothenburg Symphony Orchestra, followed by performances with Dudamel and the Berlin Philharmonic. Its spectral sounds and scintillating pulses conjure everything from spiritual reflection to raw, unrestrained energy.
Percussion has long provided a central role in Gubaidulina's compositional thought, growing out of her twin fascinations with improvisation and timbre, as heard in such works as Hour of the Soul (1974-76, rev.1988) and In the Beginning There Was Rhythm (1984) for seven percussionists. The sources of these interests can be traced back to her Tatar background with a culture of folk music and improvisation. The composer wrote to the musicologist Olga Bugrova that "when I thought about which of the three basic aspects of musical texture could form the roots in a sonorous space, I understood that it was rhythm." In Glorious Percussion there are seven episodes in which the percussionists step before the orchestra and improvise: "This is more or less a reminiscence of a performance practice from a time during which only an oral culture existed."
Gubaidulina's orchestral work Fairy Tale Poem is performed at the BBC Proms at the Royal Albert Hall in London on 18 August with the Ulster Orchestra conducted by Rafael Payare. Her music was originally composed in 1971 for a radio broadcast featuring a Czech fairy tale which Gubaidulina viewed as a parable of the artist's destiny:
"The main character is a small piece of chalk used for writing on school blackboards... It is forced to write boring words, numbers and geometric figures on the board. The children grow with each day, but the chalk becomes smaller and smaller... the chalk finds itself in total darkness and thinks that it has died. What it thought was the darkness of death is actually the inside of a boy's trouser pocket. The boy pulls the chalk out of his pocket and in the light of day begins to design castles, gardens with pavilions, and the sea with the sun..."
Recent Gubaidulina works include a third violin concerto, entitled Dialogue: Me and You. The new work has received first performances with Vadim Repin as soloist in Tallinn in February and Vienna in June, both conducted by Andres Mustonen.
Photo: Ingrid von Kruse

Boosey & Hawkes Composer News