Shostakovich and Football: new book published
(May 2019)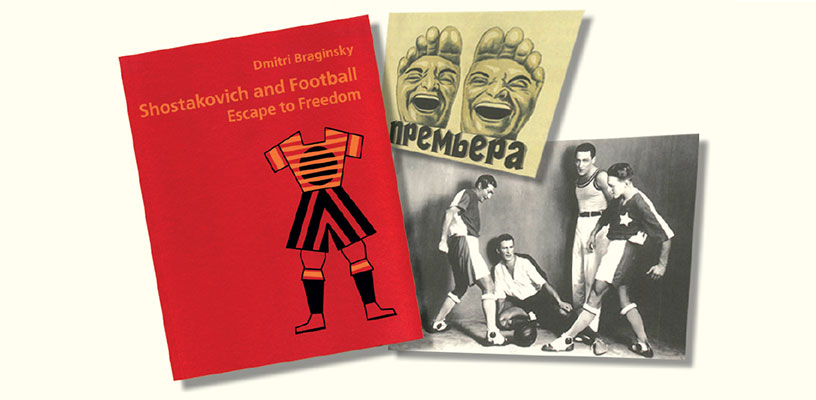 Dmitri Braginsky's new book, Shostakovich and Football: Escape to Freedom, examines the composer's lifelong passion for the sport, through historic documents from the Soviet era and a lavish selection of photos.
A new book by Dmitri Braginsky, Shostakovich and Football: Escape to Freedom, explores Dmitri Shostakovich's lifelong passion for football. His widow Irina Shostakovich writes in her foreword that he "could not live without football, he lived in football, as though it was a special, parallel dimension… In this terrain, he was forever young, happy and free."
This lavishly illustrated book, produced by DSCH Publishers in collaboration with Dmitri Shostakovich's Archive and the Rimsky-Korsakov St Petersburg State Conservatoire, was first published in Russian and is now available in a new English translation. Its aim is to depict a panorama of the football and sports events and facts in the composer's biography against the broad sociocultural background of Soviet life in the 1920s-1970s. The text is accompanied by a rich collection of photographs, and many archive documents are published for the first time.
> Buy the book from our Online Shop
> View a feature on the book in the Moscow Times
As well as being a devoted supporter of Dinamo Leningrad and the Soviet team, Shostakovich was something of a football connoisseur, even gaining a National Football Referee permit, allowing him tickets at stadiums nationwide. His enthusiasm for the sport also found its way into his work as a composer. His first ballet The Golden Age (originally titled Dinamidia), tells of a Soviet football team visiting the West, whose captain is imprisoned by fascist agents only to be released as the footballers are joined by the local workers to defeat the police. Shostakovich also composed a Football scene for a 1944 wartime performance by the NKVD Song and Dance Ensemble.
The book examines Shostakovich's newspaper articles and diary entries on football, his friendships with fellow fans, and his fascination with rules and statistics. Other sporting interests are explored including boxing, ice hockey, tennis, chess and billiards, offering an intimate picture of the composer seeking relaxation and a freedom denied him as a prominent Soviet composer.
Shostakovich and Football is on sale from www.boosey.com/shop, priced £42.00.
196 pages
114 illustrations
DSCH Publishers © 2018
ISBN: 9785900539133
Photo and poster of Shostakovich's The Golden Age ballet, GATOB 1930

Boosey & Hawkes Composer News