Russell Platt on Ned Rorem's Music
(May 2021)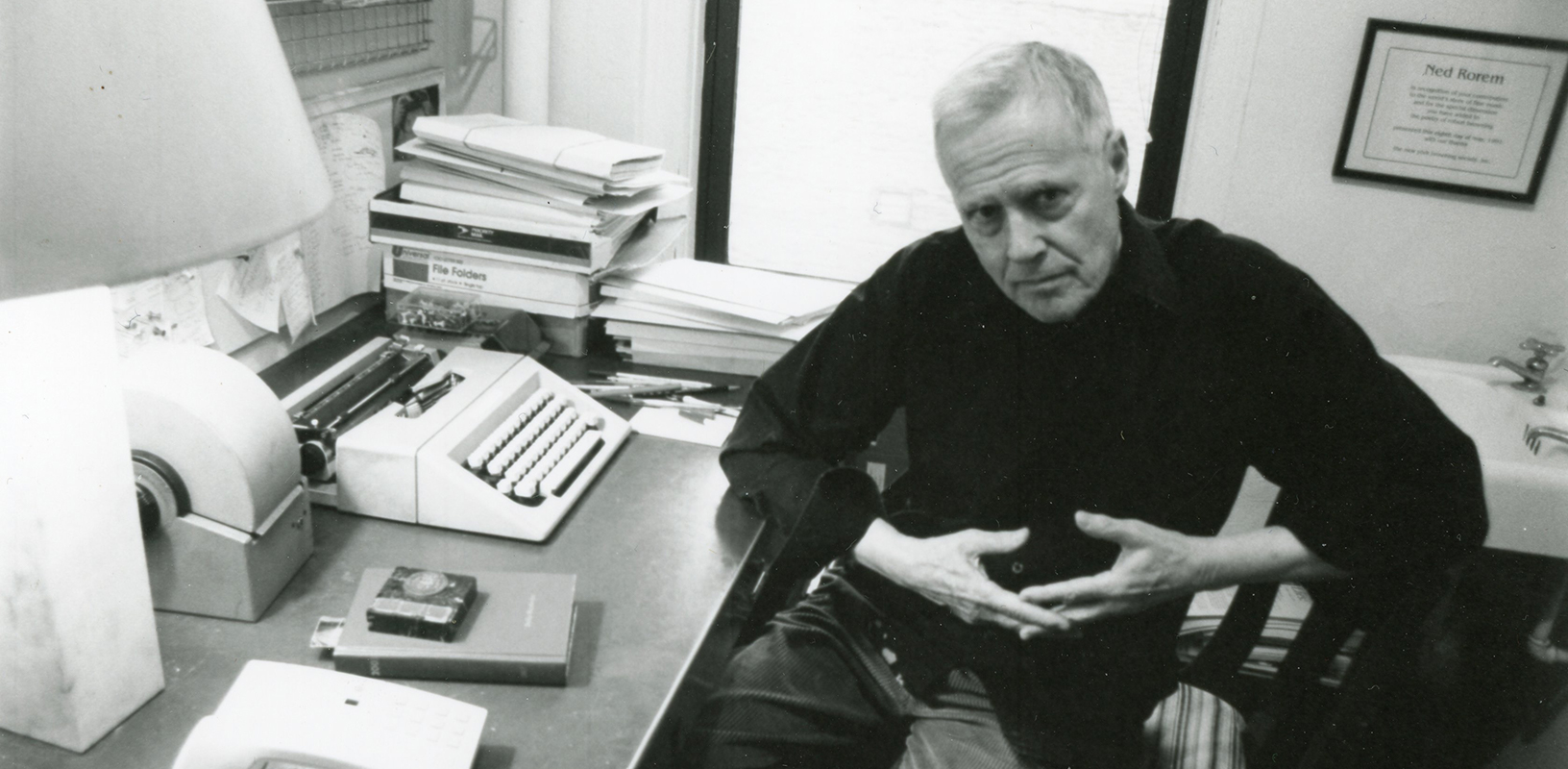 Composer and writer Russell Platt guides us through the rich musical output of Ned Rorem—from his lively orchestral works to his iconic songs—in anticipation of Rorem's centennial on October 22, 2023.
Celebrated composer and writer Ned Rorem turns 100 on October 22, 2023. Russell Platt—writer for The New Yorker and a former student of Rorem's—gives a rich overview of his teacher's vast catalog of music, from his famous art songs, beloved by generations of singers, to his lively orchestral works.
> Listen to the accompanying Spotify playlist of music mentioned in this article.
> View our "Ned Rorem at 100" brochure.
---
Russell Platt on Ned Rorem's Music
In the summer of 1992, when I was one of the composition fellows at the Britten-Pears Young Artist Programme at Aldeburgh, I remarked—a bit naïvely, I guess—to Oliver Knussen, the director, that Samuel Barber and Ned Rorem were the two American composers closest to my heart. (I had studied composition with Rorem at the Curtis Institute in 1987-88.) He cocked an eyebrow, but I persevered. Isn't every composer who writes in our modern age somehow, ineluctably, modern? Surely no artist of quality can avoid reflecting the tenor of the times in his outlook and his work? "Well, I think that Rorem is certainly modern, but not Barber." Knowing of Barber's canny adaptation of Stravinsky-Copland neoclassicism in "Knoxville: Summer of 1915" and of twelve-tone technique in the Piano Sonata, I silently demurred. But the commission of this essay hurled me back to Olly's observation, and I realized that he was right. Barber was a latter-day Romantic who occasionally made use of modernist means, whereas Rorem was a modernist who used an admixture of French Impressionism, European atonality, and American jazz to forge an engaging contemporary style.
The composer Paul H. Kirby, in a CUNY doctoral dissertation from 1996, has laid out as well as anyone the modernist "method" that Ned insisted he never had—the intuitive but incisive use of such devices as twelve-tone rows (mined for motives, as if they were melodies); the "planing" of lines or chords in parallel motion, sometimes richly dissonant; a liberal use of octatonic and other synthetic scales, and of chords built in stacks of thirds; and a fluid general alteration between recognizably tonal and atonal passages. Those of us who studied with Ned marveled at how, in the music of his middle and later career, he could transform these techniques into multi-movement sequences of jewel-like little forms. We could have named them—the Timpani Passacaglia, the False Waltz, the Anacrusis Chorale, the Cello Recitative, the Game of Opposites, and the Ostinato Lied, among others—and they all rang with Ned's singular combination of dry-eyed tenderness and acidic wit. He seemed to act as writer and composer at once, observing his emotions while expressing them with candor; for me, that quality alone gave Ned his post-Romantic bona fides.
A New York critic, in a recent tribute, stated that "you would be hard-pressed to find greatness in Mr. Rorem's vast oeuvre." I would beg to differ. Examples came early, and famously, in song: a setting of Gerard Manley Hopkins's "Spring and Fall," from 1946 ("my first true song," Rorem has said), reveals a pre-Ned Ned, a timeless, "classical" Ned who can paint a plaintive melody, and delicately French-tinged harmonies, over a repeated "lamento" bass that could have been stolen from Monteverdi. And yet, just two years later, came the limpid "Little Elegy" (Elinor Wylie), in which we can see those Roremesque "planing" triads which, gleaming with freshness, underline the singer's gently arching tune. There is a touch of genuine tragedy that makes both these songs endure.
His style moves Frenchly forward with the Second Piano Sonata, from 1950. Its first movement, a deftly compact sonata form, practically reeks with Cointreau and Gauloises: rocking rhythms redolent of Poulenc's "Mouvements Perpétuels" power a tune as delicious as a pastry and as foursquare as a Protestant hymn. Its sparkling finale, a backward glance at the previous movements' themes, presages many a Rorem quodlibet finale from decades to come. "Eagles," perhaps his first orchestral masterpiece, follows in 1958. A spacious nine minutes, this is Rorem at his most Romantic—indeed, its "exotic" instrumental figurations seem to recall the ancient Mediterranean violence of Barber's "Medea's Meditation and Dance of Vengeance," which the New York Philharmonic had premiered in 1956. (No wonder it was a favorite of the Philadelphia Orchestra's Wolfgang Sawallisch, himself a Barber devotee.)
The acidulous major seventh with which "Eagles" ends—and the barely concealed erotic narrative which drives the work—foreshadows another one-movement wonder, "Lions," from 1963. Here, the dissonance quotient increases, but mainly as a dramatic device: stately orchestral passages based in A major (which could have been lifted from Vaughan Williams) are pitted against the dusky, E-flat major musings of a jazz combo. It's a raucous, but well-wrought, piece. Between them, in 1960, came the Trio for Flute, Cello, and Piano, one of Ned's sleepers. Broad, majestic, and sometimes startlingly harsh, it is one of Rorem's first encounters with the modernist techniques that Kirby devotedly enumerates.
Though composed in New York, and featuring only American verses, "Poems of Love and the Rain" (1962-63)—Rorem's "Dichterliebe"—closes out what might be called the "French" period. The unique and brilliant plan, in which settings of nine different poems advance toward a midpoint Interlude, and, then, in reverse order, are set again in diametrically opposing moods, gives the work its dignity. But the chromatic harmony, rich to the point of violence when necessary, pushes the envelope of expressive decorum: the Cointreau is now an alcoholic haze, and the Gauloises burns stain the bedsheets. The underrated "King Midas" (1960-61), a connoisseur cantata composed in Paris to wittily conversational poems by the very American Howard Moss, is, for me, almost a chamber opera: each member of the greedy monarch's family (along with the occasional god) gives a deposition on their dire situation. "See How They Love Me"—is it Ned's most beautiful song?—is one of several gems contained therein.
With the late 1960s, American life changed, and so did Ned's music, coincidentally or not. Anti-war and anti-racist sentiments were high, and the nation's cultural deportment, so formal in former decades, was pushed to a breaking point. Rorem's "War Scenes," five settings of excerpts from the Civil War diaries of Walt Whitman famously dedicated to "those who died in Vietnam, both sides, during the composition: 20-30 June 1969," inverts wit into rage. Tonality and atonality, lyrical flight and angry declamation fight to the death in this piece, and the work's only beauties are savagely ironic—but that has not threatened its place in the American repertory, which has been secure for decades. Maximalist modernism was achieved with "Air Music" (1974), which is doubly singular in Rorem's catalog: it won the 1976 Pulitzer Prize, and it is (coincidentally, or not) his deepest dive into the style of full-chromatic saturation that reigns in the music of Ligeti, Webern, and middle-period Messiaen. Heard without the distraction of the score in hand, it seems like an essential Cold War product, a back-lit landscape of destruction in which alienated figures (are they human?) wander, half-blind. (It is also not without drama: three of its ten movements threaten to become violin concertos.)
With the rigors of "Air Music" behind him, the late seventies saw Ned reopening the French doors, with light and breeze wafting in. The tone poem "Sunday Morning" (1977, commissioned for the Philadelphia Orchestra) is the most triumphant of his orchestral works: it is a friendly yet fantastical illumination of the eight stanzas of the iconic Wallace Stevens poem, each movement having a separate, chiseled character of its own (such as "…birds, Before they fly," a bagatelle for piccolo, two flutes and strings that is Ned's most deliciously sophisticated tribute to the magic of American jazz.) The ear-tickling "Nantucket Songs" (1978-79) shows that Rorem had nothing more to prove in the area of art song: its proudly tonal melodies are made with relaxed ease, and aim to entertain, sublimely. And the String Symphony (1985), lovingly inscribed for Robert Shaw and the Atlanta Symphony Orchestra, is an exquisitely balanced five-movement creation that might prove to be the most accessible of his more ambitious, large-scale pieces.
The summation of Ned's career in song would come in the evening-length cantata "Evidence of Things Not Seen" (1997), in which the composer's French affinities, American citizenship, Quaker background, and breadth of style find their most evocative summation. Although it might be hard to pick out a song which would match the repertory nuggets of past decades, it offers a unique insight into Ned's mind and spirit, and develops into a powerful whole: it is best experienced live. ("Aftermath," a cycle for medium voice and piano trio crafted in the long shadow of 9/11, in 2002, is a trenchant coda.) In his later years, however, Rorem would become well-known as a composer of concertos, including those for violin (1984), violin and cello (Double Concerto, 1998), English horn (1991-92), piano left-hand (1991), cello, and flute (both 2002). All of them use the multi-movement framework seen in "Air Music" and "Sunday Morning," and all have their rewards. But for me, the high points are the left-hand concerto, in which the odd challenge of the solo line forces Rorem's techniques to provocative ends, and the English horn concerto—partially composed in a hospital bed!—which has a darkly eccentric tone to it, bouncing playfully from merry jest to outraged exclamation.
With the Beethoven year behind us, many Americans are commenting on issues of privilege and access—for audiences, musicians, and composers alike—in the classical music community. I'm reminded of another choice quote, this one of Ned's chestnuts, which I heard at Curtis in 1987: "Look, we all love Beethoven, but let's put his music away for ten years, and pay attention to the music of our own country. Then when we come back to it, we'll love it all the more." Perhaps, at this late date, we should finally start listening to him.
© Russell Platt, 2021
Russell Platt is a Nashville-based composer who teaches at Vanderbilt University's Blair School of Music. From 2000 to 2018 he was a classical music editor and critic at The New Yorker.

Boosey & Hawkes Composer News