Richard Strauss: Die Frau ohne Schatten at 100
(July 2019)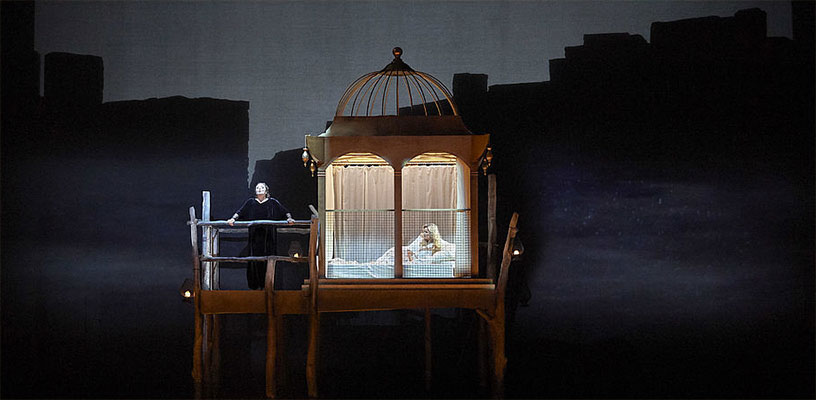 Richard Strauss's fantasy opera created with Hugo von Hofmannsthal, Die Frau ohne Schatten, is celebrating its centenary, with performances in 2019 and over the coming season in Vienna, St Petersburg, Paris, Amsterdam, Leipzig, Hamburg and Budapest.
Richard Strauss fans have long regarded Die Frau ohne Schatten as one of the composer's supreme achievements, with its extraordinary orchestration, complex psychology and deep humanity. It is also one of the most demanding works in the Strauss canon, with four major roles and a fantasy visual world which for 100 years has stretched the imaginations of directors and designers. From Alfred Roller at the premiere to David Hockney in 1992 and Herbert Wernicke in 2001, solutions have been sought for the challenges of visualising earthquake, flood, unborn children and human petrification. The possibilities of incorporating video into the stage design has ushered in a new production era for the opera in the past 25 years, seeing an upward curve in the frequency of performances.
The opera was premiered at the Staatsoper in Vienna in 1919, so it was inevitable the city with its strong Straussian connections would be at the centre of centenary celebrations for Die Frau ohne Schatten. A new production by Vincent Huguet, conducted by Christian Thielemann, opened at the Staatsoper on 25 May, with Wolfgang Koch and Nina Stemme as Barak and his wife, and Camilla Nylund and Stephen Gould as the Empress and Emperor, with Evelyn Herlitzius as the Nurse.
As well as 2019 being the centenary year of Die Frau ohne Schatten it is also the 150th year of the Staatsoper itself and the first night on 25 May celebrated this anniversary with a live broadcast of Strauss's opera on Austrian Radio, via the EBU, and streamed on the company's 'Live' website. The actual centenary day of the opera's premiere at the Staatsoper falls on 10 October and the new production has a further run of performances starting that night as part of a Strauss cycle at the theatre, with Tomasz Konieczny, Andreas Schager and Mihoko Fujimura joining the cast as Barak, the Emperor and the Nurse.
Die Frau ohne Schatten has long attracted the world's leading opera conductors. In addition to Christian Thielemann in Vienna, Kent Nagano was in the pit for the recent Hamburg Staatsoper production, while Valery Gergeiv has conducted Jonathan Kent's staging at the Mariinsky Theatre in St Petersburg and a concert performance this summer at the Verbier Festival. Yannick Nezet-Seguin conducts a concert performance at the Théâtre des Champs-Elysées in Paris on 17 February and the opera returns to Dutch National Opera in Amsterdam in April with a new production by Katie Mitchell conducted by Marc Albrecht. With Brigitte Fassbaender's recent staging in Kiel and productions in Budapest, Leipzig and Mannheim, the centenary has enjoyed a strong international presence for the opera.
> Further information on Work: Die Frau ohne Schatten
Photo: Vienna Staatsoper/ Michael Pöhn

Boosey & Hawkes Composer News