Rattle premieres Gruber's Dancing in the Dark
(May 2003)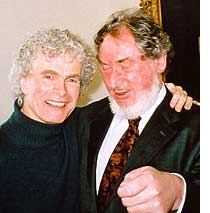 HK Gruber's new orchestral work, Dancing in the Dark , launched his 60th birthday year in style, thanks to Simon Rattle and the Vienna Philharmonic Orchestra. Further performances are programmed at the BBC Proms in London, in Cleveland and Cologne.



Gruber and Rattle first worked together 25 years ago, when the young conductor gave the premiere of Gruber's Frankenstein!! in Liverpool. Their latest collaboration proved something of a turning-point for Gruber in his home city, with the excellent reviews for the Musikverein performance at last signalling the composer's arrival in the Viennese pantheon.

Following its successful premiere, the Vienna Philharmonic has added Dancing in the Dark to its future touring plans, and the BBC Philharmonic gives the work's UK premiere at the BBC Proms on 2 August under the baton of the composer. Further performances are already scheduled by the Cleveland Orchestra, once again conducted by Gruber (9-11 October), and by the Gürzenich Orchestra in Cologne under Markus Stenz (2-4 November).

Adopting the composer's favoured two-movement format of a slowly evolving imaginary landcape followed by a fast dance-based movement, Dancing in the Dark is Gruber's most ambitious purely orchestral work to date. In an interview in the Kurier, Simon Rattle described the new work as "a small history of Viennese music. There are wonderful moments, where this picture of a kind of Viennese Fred Astaire develops... Perhaps Gruber has composed the first foxtrot funeral march in music history!"

"A huge, sensational success."
Die Presse

"From the flow of a weighty dark-veined adagio, rhythmic dancelike islands arise. The whole work is marvellously scored, often in unorthodox fashion. A Viennese sound-study, tailor-made for the Philharmonic."
Salzburger Nachrichten

"Echoes of Berg, Wagner, Mahler, tap-dance rythms and a funeral foxtrot..."
Der Standard

Gruber awarded Austrian State Prize

Further recognition in his homeland came to Gruber in February with the announcement that he had been awarded the prestigious Austrian State Prize (Großer Österreichischer Staatspreis), the highest honour granted to artists in Austria. Awarded by the Österreichischen Kunstsenat, the prize money is 22,000 Euros. Gruber has decided to dedicate the money to a new initiative which will support the commissioning and performance of new works by gifted composers of all ages.
> Further information on Work: Dancing in the Dark
Photo: Simon Rattle and HK Gruber at the Vienna premiere of Dancing in the Dark (Credit: Susan Bamert)

Boosey & Hawkes Composer News