Performer Picks: Bridget Kibbey's Top Boosey Harp Works
(December 2020)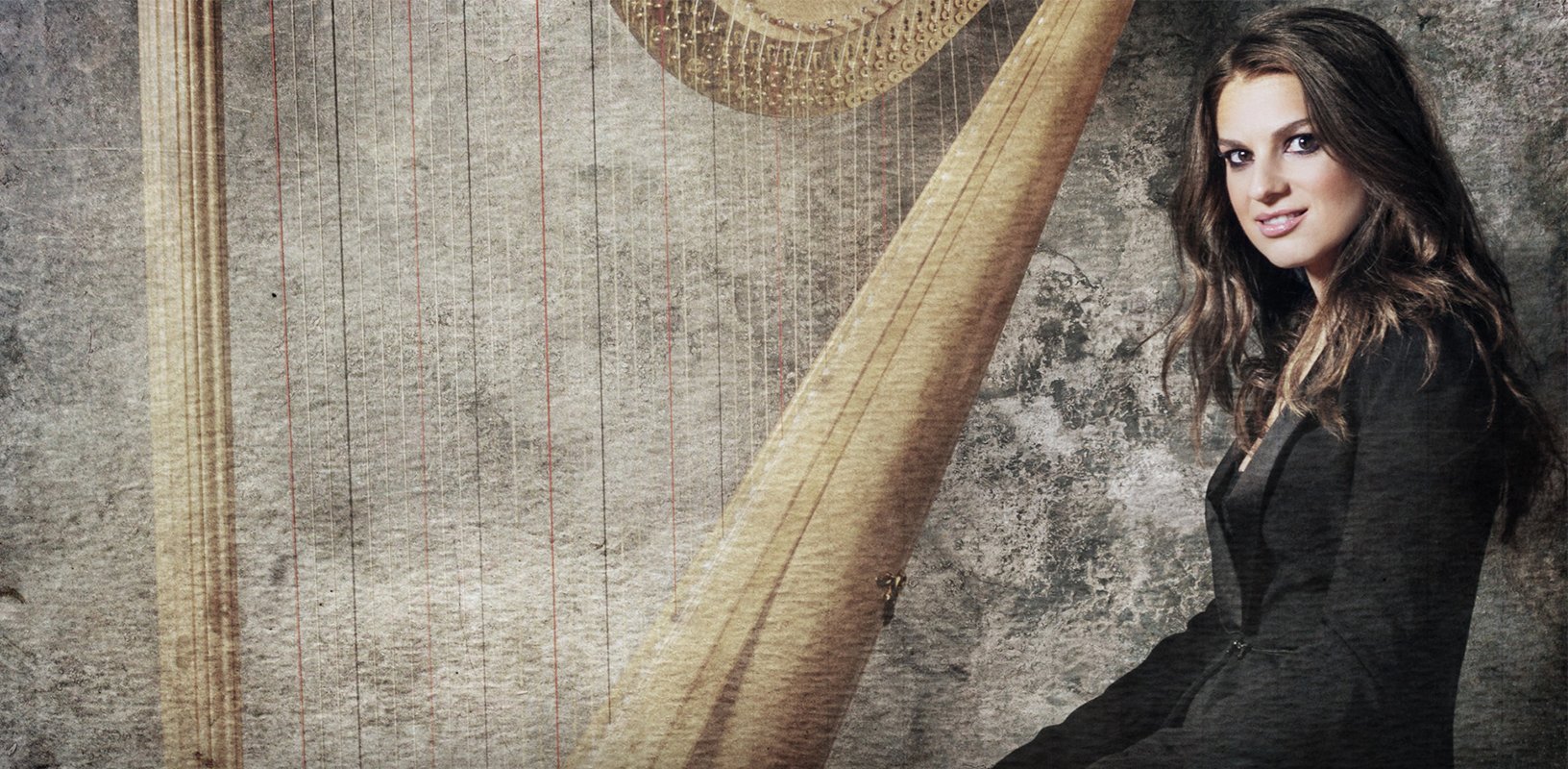 Harpist Bridget Kibbey has made a career out of adventurous and creative harp performance, as an acclaimed soloist and chamber musician touring around the world. Her recent projects have explored the rich intersection of cultures, folk music, and classical music, which has led her to champion works by composers like Paquito D'Rivera and Alberto Ginastera.
A renowned interpreter of contemporary music, Kibbey states:
"Composers are my teachers. They give me different frameworks to approach my instrument that have made me a better musician, a better technician, a more soulful musician, because they've made me a chameleon. And as a result, my mind is continually blown by what the harp can do and how it can evoke these different instrument styles, textures, and cultural narratives."
We spoke with Kibbey about her favorite harp works in the Boosey catalog.
Kibbey loves exploring cultural narratives via the harp, alongside masters of each genre. Listen to her play Venezuelan Joropo, in her recent touring project, Bach to Brazil. Kibbey is represented by Opus 3 Artists. Follow Kibbey on Instagram at @bridgetkibbey and learn more at www.bridgetkibbey.com.
1. Alberto Ginastera, Harp Concerto op. 25 (1956)
Harpists love this concerto because it exposes the powerhouse side of the instrument—there's a verve, a soulfulness, a strength. The harp is acting as a guitar in this piece, but it lends this powerful terracing of resonance that builds up from the bass of the harp to the top, which you hear in the first movement and cadenza. Ginastera understands this buildup of resonance of the instrument and writes in a way that is completely idiomatic for the harpist. There's a famous moment at the end of the cadenza that launches into the third movement: The harpist is like a flamenco guitarist building up these rhythms and arpeggiations to the moment when the orchestra comes in with a tutti hit, and it's just mind blowing! One of the most fun and satisfying moments onstage that I have experienced.
What's exciting about this time period when Ginastera was writing the concerto is that he was so intentional about including his own history and voice in the music. You have this marriage of high art and folk art—which is my sweet spot when it comes to commissioning music and choosing which composers I like to perform. What's great right now is that we're all in serious dialogue about the real roots of the music we play. Here, Ginastera is pointing to Argentinean folk music—born from the melding of melodies from indigenous populations and rhythms of Western Africa—as well as the harmonic foundation of Western European classical music.
2. Paquito D'Rivera, Bandoneon for solo harp
Paquito has written a couple pieces for me: Bandoneon and Habanera. Something I'm obsessed with on the harp is bass lines. The tenor range and the bass of the harp are so soulful—you have the wire strings and thicker gut in the tenor range that together can evoke a bass guitar—Paquito unleashes this in Bandoneon. I love feeling that slow, soulful ostinato that just does not move. There's something really sexy about that, when you have a very slow bass line and it's not going anywhere. Then the right hand is like an improvisational singer that's riffing on top of it—I love how there's freedom of expression in the treble, which is more crystalline on the harp.
I had a great experience when I was first learning the piece about 10 years ago. Paquito lives across the bridge from me in New Jersey, and he's like, "Come on over with your harp!" So I headed over to his house, thinking it was going to be a coaching on the piece—he just picks up his clarinet and I start playing and he begins improvising with me. He was the vocalist as the clarinet in the upper range and played with me until I just sat in this ostinato—that was just magic.
> Watch Kibbey perform Paquito D'Rivera's Bandoneon on NPR's Tiny Desk Concert
3. Sebastian Currier, Broken Minuets for harp and strings
Sebastian demands that you hear the broadest dynamic range of the harp, and specifically, to expose the roundest sound in the treble of the harp. He understands how it acts as a great colorist in combination with other instruments, and he's a wonderful orchestrator. In Broken Minuets, the harp plays with a full string orchestra at its most delicate via a lot of juxtaposing, but also creates the most striking timbres as a unit with the orchestra. He is truly a modern colorist continuing the great work of Debussy and Ravel—and of course, harpists love him for it.
When I was a freshman at Julliard, I was very fortunate to start freelancing with many different music ensembles, and I got to work with a lot of living composers right away. I met Sebastian when I was 18 and gave the American premiere of his Night Time Suite for violin and harp, which he wrote for Marie-Pierre Langlamet and her partner of many years. Langlamet, a beacon of extraordinary harp playing, is principal harpist of the Berlin Philharmonic, and has a very specific approach to the harp: She achieves a beautiful, warm core tone in the quietest dynamic range on the harp—magical! I think Sebastian is influenced by her style in his harp writing, and it was fun for me explore that mode of playing.
4. Elliott Carter, Bariolage for solo harp
I was competing in the Israel International Harp Competition when I was 19 and they required a piece by a composer of the 20th century. I had to send in the application the next day and so I cavalierly went to the Julliard library to see what they had on hand. I was looking through all this music, and when I saw Bariolage I could tell by the score, this is great. I missed a little line in the application that the piece must be memorized, and I had a month to learn the piece. So I went home, bawled my eyes out, and then embraced the process, memorizing four bars at a time, which took me an hour a day. I had flashcards to understand the various lines of counterpoint. But the result was a depth of expression I rarely find in a solo work for harp, and that learning process is something that has paid forward throughout my entire career.
This piece is what taught me to hear counterpoint, to hear juxtaposing lines, to hear juxtaposing color, to keep this balance onstage of right and left brain. When you look at counterpoint in Bach, you have two lines that are maybe engaging with one another at various times, in various harmonies. But what you have with Carter is the next level: a completely different color world, rhythmic world, and tempo to navigate in each line. Being able to hear these lines unfolding as you perform live in a very clear way, if you can achieve that onstage the result is absolute magic. I don't know any other piece that gives you back more what you put into it. And that's why it's on my debut album.
I'm thankful that I got to meet Carter and engage with him a bit in the last four years of his life, thanks to Fred Sherry who brought me into a lot of his birthday celebrations. I was able to play the New York premiere of Mosaic for one of his birthday celebrations at Zankel Hall. Elliott Carter took a very naturally expressive, effusive, emotive person and made me a better musician who had something to say because I had to learn his language.
> Listen to Kibbey perform Elliott Carter's Bariolage

Boosey & Hawkes Composer News