New James MacMillan books published by Boydell and Birlinn
(July 2019)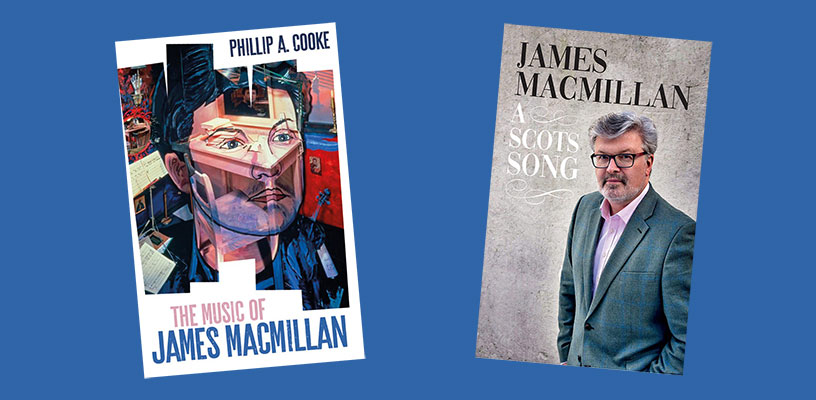 Two new James MacMillan books are released to co-incide with his 60th birthday and a feature at the Edinburgh International Festival: the first study of his music written by Phillip A Cooke and published by Boydell Press and a collection of the composer's own writings from Birlinn.
The first in-depth study of James MacMillan's life, work and aesthetic, written by Phillip A Cooke, is published by Boydell Press. This book coincides with the composer's 60th birthday celebrated this month, and a major feature on his music at the Edinburgh International Festival in August.
MacMillan's output appeals across the spectrum of contemporary music. From his beginnings in rural Ayrshire and his early work with Sir Peter Maxwell Davies, through the international breakthrough of The Confession of Isobel Gowdie, the continuing success of works such as the percussion concerto Veni, Veni, Emmanuel and his frequently performed choral pieces, to his current position as one of the most prominent British composers of his generation, the book explores MacMillan's compositional influences over time. It looks closely at his most significant works and sets them in a wider context defined by contemporary composition, culture and the arts in general.
Also recently published for the composer's 60th is a collection of James MacMillan's writings bearing the title A Scots Song: A Life of Music from Birlinn. The book covers a wide range of political, social and theological issues, many of which spring from MacMillan's commitment to the cultural life of Scotland. He is a passionate advocate of community involvement in music and set up the burgeoning music festival The Cumnock Tryst in 2013. Much of his music reflects his strong Scottish roots and interest in all aspects of musical tradition.
James MacMillan has written works for, amongst many others, the London Symphony Orchestra, the Los Angeles Philharmonic, the Royal Concertgebouw Orchestra, the Scottish Chamber Orchestra, the BBC Scottish Symphony Orchestra, The King's Singers and The Sixteen. His music has been performed by leading soloists including Evelyn Glennie, Mstislav Rostropovich, Colin Currie, Ian Bostridge, Vadim Repin and Amy Dickson.
A further MacMillan book, collecting together essays on his music by leading writers, is in preparation by Cambridge University Press for future release.
The Music of James MacMillan
by Phillip A Cooke
317 pages (hardback)
ISBN: 9781783273706
Boydell Press
A Scots Song: A Life of Music
by James MacMillan
96 pages (paperback)
ISBN: 9781780276175
Birlinn

Boosey & Hawkes Composer News