Mark Anthony Turnage: reviews of new ballet Undance
(January 2012)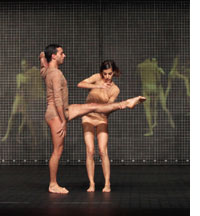 Mark-Anthony Turnage's new ballet Undance is a collaboration with choreographer Wayne McGregor and visual artist Mark Wallinger.
A pioneering three-way collaboration between composer Mark-Anthony Turnage, choreographer Wayne McGregor and visual artist Mark Wallinger created Undance, premiered at Sadler's Wells in London in December. Wallinger's starting points were Richard Serra's Compilation of Verbs and the human motion studies of photographer Eadweard J. Muybridge, leading Turnage to create an eight-movement score built from pairs of action verbs. Muybridge's mesh grid appears as a barrier between the live dancers on the front stage and Wallinger's desynchronised film of the same dancers behind.

"The relationship between dance and music is lucid. Turnage's brilliantly coloured, and stridently rhythmic score has distinct sections. Within each are moments of lovely, graphic accord with the choreography: a slow plangent loop of melody that drives a sequence of wheeling arm movements, a thick cluster of rhythms that accompany an elaborate wrestling duet…"
The Guardian

"Turnage has responded with a score that is highly varied in texture and colour. Themes are introduced, laid open, symmetrically flipped, and reduced to single shafts of sound that hang blade-like in the air… a playful collaboration brimming with ideas."
The Observer

Ballet is forming an increasing strand of Turnage's activities. Last summer saw a new Wayne McGregor choreography of Blood on the Floor at the Opéra Bastille in Paris. In July Turnage's new ballet score for Alastair Marriott and Christopher Wheeldon will be unveiled by The Royal Ballet at Covent Garden as part of the London 2012 Cultural Olympiad. Other ballets featuring music by Turnage include Heinz Spoerli's Peer Gynt (Scherzoid and Crying Out Loud), in the repertoires of Zürich Ballet and the Staatsballet Berlin, and From All Sides choreographed by Jorma Elo for Hubbard Street Dance Chicago.

> Further information on Work: Undance
Photo: Turnage's Undance at Sadler's Wells Theatre in London

Boosey & Hawkes Composer News