Mark-Anthony Turnage: reviews of Mambo, Blues & Tarantella
(January 2009)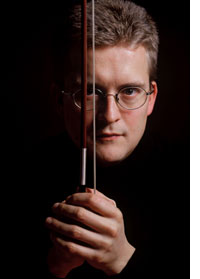 Mark-Anthony Turnage's new violin concerto for Christian Tetzlaff, Mambo, Blues & Tarantella, was featured in the London Philharmonic's opening concert of the season on 24 September, conducted by Vladimir Jurowski and recorded for future release on the LPO Live label. Tetzlaff also performed the concerto with the Royal Stockholm Philharmonic Orchestra in October and its co-commissioners the Toronto Symphony Orchestra in November.

The work is characteristically bracing and sinewy in its Latin dance-tinged outer movements, demonstrating Turnage's reinvention of the concerto genre through his distinctive soundworld.

"…there's no doubting this is a significant addition to the repertoire. Accessible, tough and unmistakably Turnage, it has a blatantly classical shape, setting out like a baroque jig, with lots of arresting staccato gestures and complex rhythms, before moving on to a moody slow movement and a final dance of obsessive nerve and energy. A stunning piece - and a stunning premiere performance from Christian Tetzlaff."
Financial Times

"Unusually, in the energetic outer movements, the composer treats the violin as quasi-percussion, with jagged-edge multiple stopping and wild rhythmic abandon. The slow Blues movement is a serene oasis of calm at the heart of the work. This is a notable addition to the concerto repertory. The solo part was thrillingly played by the dedicatee, Christian Tetzlaff, a rare champion of new music among elite contemporary violinists."
Sunday Times

"The stimulus for each of the three movements is plain from the titles, but it is equally typical of Turnage that the mambo, blues and tarantella form only springboards for ideas that are developed and transmuted into something more complex, while retaining the traits of the original… The mambo builds up an explosive head of steam, reinforced by lots of syncopation from the percussion. Throughout, the solo violin line makes phenomenal demands, but Tetzlaff performed it with terrific bravura and a panache that went beyond mere negotiation of the notes to find the real nub of the music's exuberant spirit."
Daily Telegraph

Forthcoming Turnage performances include the premiere on 5 March of a new work for tenor and ensemble, A Constant Obsession, by Mark Padmore and the Nash Ensemble at Wigmore Hall, and an all-Turnage concert in Glasgow on 18 April by the BBC Scottish Symphony Orchestra conducted by Ilan Volkov, including the UK premiere of From All Sides and a new work for flute and orchestra, Five Views of a Mouth.
> Further information on Work: Mambo, Blues and Tarantella
Photo: violinist Christian Tetzlaff (© Alexandra Vosding)

Boosey & Hawkes Composer News