Mackey's Critically Acclaimed Moon Tea Available for Streaming
(July 2021)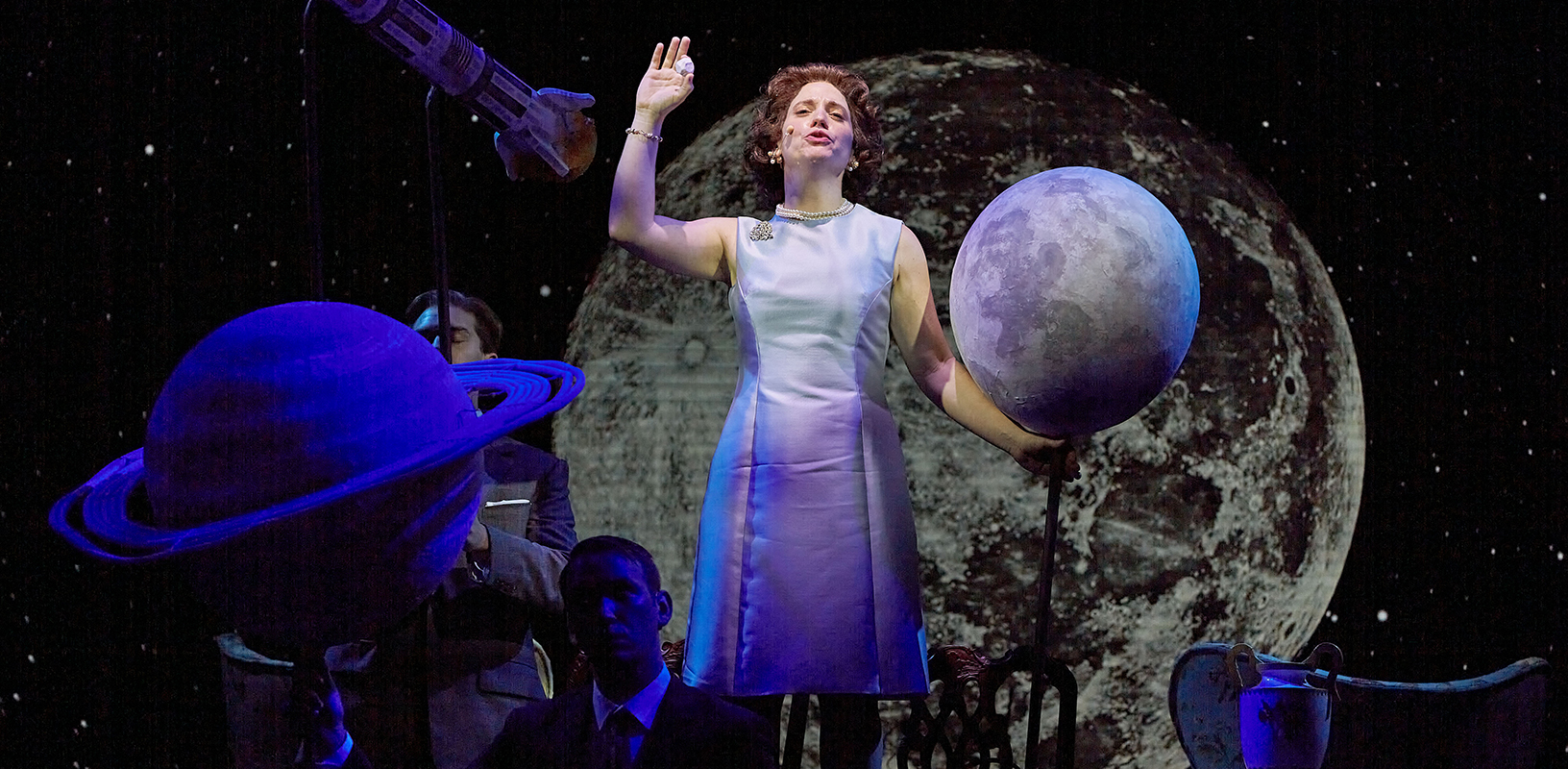 Composer Steven Mackey and librettist Rinde Eckert's new chamber opera Moon Tea premiered to critical acclaim at Opera Theatre of Saint Louis in June. The live performance will be available for streaming September 3-30.
Last June, Opera Theatre of Saint Louis (led by conductor Daniela Candillari) gave the world premiere of Steven Mackey and Rinde Eckert's 25-minute chamber opera, Moon Tea—a colorful, witty retelling of the historic 1969 meeting between the British royal family and the Apollo 11 astronauts upon their return from the moon. Moon Tea is structured as a series of monologues (and one duet) for each of the five characters—Queen Elizabeth II, Prince Philip, Neil and Janet Armstrong, and Captain Michael Collins—that culminates in a final virtuosic quintet.
Critics delighted in the opera's lighthearted, fantastical sense of creativity and humor—Classical Voice North America nodded towards its "Monty Pythonesque surrealism" while the St. Louis Post-Dispatch likened it to the work of filmmaker Georges Méliès.
Mackey's musical influences were diverse, ranging from Mozart's opera buffa comic operas to Gilbert and Sullivan patter songs. Reviewers picked up on Mackey's nod to great musical traditions in Michael Collins aria (performed by Michael Day), who stammers in front of royalty after breaking a priceless vase—Opera News described it as "a Sondheim-like number of rapid-fire, panicked patter" and BroadwayWorld called it "a lightning-fast patter song like the best of Gilbert & Sullivan." One of the high points of the opera is Queen Elizabeth's aria (performed by Monica Dewey), in which she imagines herself floating on the moon away from her life in the public eye. Musical America called it "a mesmerizing aria of truly regal bearing, in a kind of neoclassical style with keyboard accompaniment."
Moon Tea, presented as part of Opera Theatre of Saint Louis's "New Works, Bold Voices" Lab, will be available internationally to stream digitally beginning September 3 through 30.
> Learn more about streaming Moon Tea
Musical America
"Steven Mackey's Moon Tea, to a libretto by Rinde Eckert, emerged as the work of greatest imagination and depth ... Moon Tea is worth expanding to normal one-act length."
ReviewSTL.com
"A gripping piece ... Perfectly concise and well-paced."
St Louis Post-Dispatch
"The opera remixes historical events and make-believe in the vein of silent filmmaker Georges Méliès ... imaginations run royally wild."
Opera News
"Drollery prevailed in Moon Tea, by composer Steve Mackey and librettist Rinde Eckert, a fanciful reimagining of the encounter between the Queen and Prince Consort of England and the crew of the Apollo 11 flight that first put men on the moon."
Broadway World
"She sings her dream of being queen of the moon, drifting weightless and alone in moonlit space. It's beautifully and gracefully done."
"His wonderfully done song of embarrassment—in which he repeatedly drops into stammering mild obscenities—is a lightning-fast patter song like the best of Gilbert & Sullivan."
Classical Voice North America
"The opera is facile and often brilliant."
"Ingenious touches include the ragged sneeze rhythms that repeatedly interrupt Neil Armstrong's vocal line, the slightly demented, not-quite-a-waltz theme that serves as the basis for the dreamlike scene in which Queen Elizabeth imagines herself Queen of the Moon, and the elaborate, rapid-fire patter song that illustrates Michael Collins' awkwardness."
> Further information on Work: Moon Tea
Photo Courtesy of Opera Theatre of St. Louis; Photographer Eric Woolsey

Boosey & Hawkes Composer News