MacMillan Choral Guide: performance tips and audio clips
(July 2009)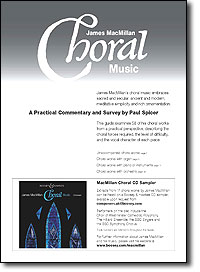 Explore the choral music of James MacMillan with our web guide to his choral music.


This Practical Commentary and Survey by Paul Spicer includes performance tips and links to online audio clips. It updates the earlier 2002 guide, and is expanded to embrace 58 of MacMillan's works, examining them from a practical perspective, describing the choral forces required, the level of difficulty, and the vocal character of each piece.


View the new web guide to MacMillan's choral music (PDF)


James MacMillan's choral music embraces sacred and secular, ancient and modern, meditative simplicity and rich ornamentation. Works range from unaccompanied gems such as A Child's Prayer, The Gallant Weaver and the Strathclyde Motets to major choral-orchestral statements including Seven Last Words from the Cross, Quickening and the St John Passion.


Sheet music and recordings of MacMillan's choral works are on sale from The Shop at Boosey.com.

Boosey & Hawkes Composer News