James MacMillan: reviews of Percussion Concerto No.2
(February 2015)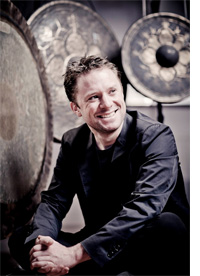 Colin Currie is soloist in James MacMillan's new metal-flavoured percussion concerto, travelling from Europe to America over the next year.
James MacMillan's new percussion concerto for Colin Currie is enjoying a busy international schedule since its premiere with the Netherlands Radio Philharmonic in Utrecht in November. Performances followed in London by the Philharmonia Orchestra within Currie's Metal, Wood, Skin residency at the Southbank Centre, and by the Orchestre Nationale du Capitole de Toulouse. The work heads to America – north and south – over the next year, for programmes at the Cabrillo Festival and by the Baltimore Symphony and the São Paulo Symphony conducted by Marin Alsop.

It is over 20 years since the premiere of MacMillan's first percussion concerto, Veni, Veni, Emmanuel, which rapidly became the most popular work in the genre with close to 500 performances to date. The new work, scored for full rather than chamber orchestra, focuses on metal percussion including the recently invented aluphone which bridges the gap between vibraphone and bells.

As The Times observed, the second concerto is a "much different beast, abstract and fidgety, though equally crowned with a knot-tying chorale, embedded with glittering orchestral jewels".

"…the music takes off with quickly building kinetic energy. The solo part – played with utmost virtuosity by Currie – is chased by orchestral interjections until in the ruminating middle section of this single-movement, 25-minute work the music finds room to breathe. Here a lush string tune is decorated by tuned cowbells before the soloist moves to a steel drum to make chamber music with piano, harp, flutes, double basses and a solo viola's jagged lines."
Daily Telegraph

"The cacophony of the first section, with hyperactive percussion solo and police siren wailing in the orchestra, feels like standing at a busy junction in New York at rush hour. The music quietens and there is a touching passage for percussionist and solo viola, before the concerto steams up to a typically explosive ending... Colin Currie has another colourful showpiece for his repertoire."
Financial Times

The new work is the latest in a recent sequence that has seen MacMillan applying his dramatic skills to the concerto genre, with works for violinist Vadim Repin, oboist Nicholas Daniel and violist Lawrence Power. His three piano concertos continue to be performed widely, with a cycle presented by the BBC Scottish Symphony this season with Peter Donohoe as soloist, and performances of the Third in 2015 by Jean-Yves Thibaudet with the New York Philharmonic, St Louis Symphony and Royal Concertgebouw Orchestra.
> Further information on Work: Percussion Concerto No.2
Photo of Colin Currie: Marco Borggreve

Boosey & Hawkes Composer News