Inspired by the Masters
(October 2021)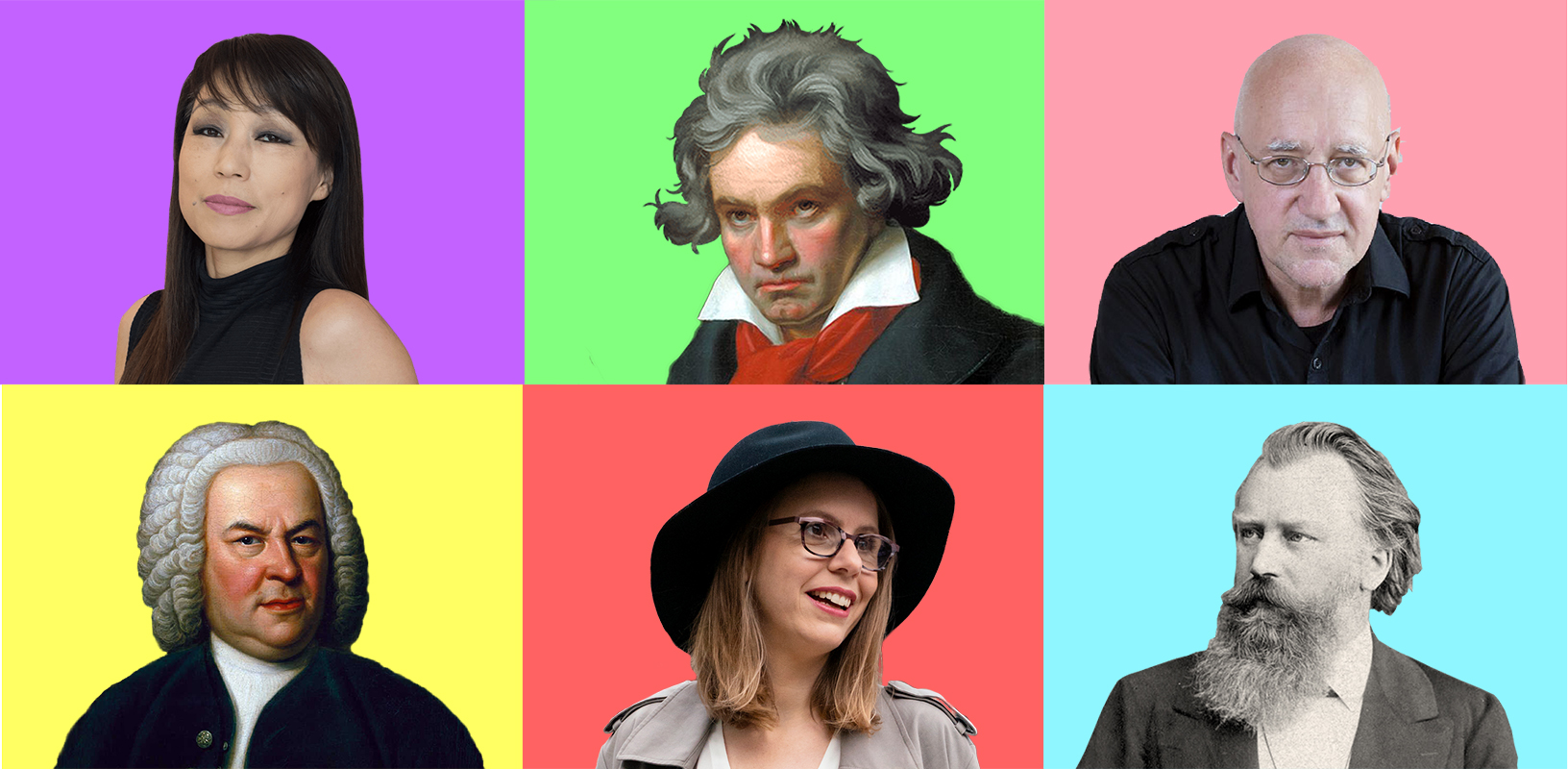 Explore works by contemporary composers that look to masters like Bach, Beethoven, and Brahms for inspiration.
Contemporary composers trace their musical lineage through homage, musical quotations, and companion pieces that connect them with great composers of the past. This coming month, both Sebastian Currier and Unsuk Chin—two of the most important orchestral composers today—have Beethoven-inspired works premiering: Chin's new concert opener subito con forza receiving its US premiere with David Afkham and the Minnesota Orchestra (Oct 29-30); and Currier's Track 8, inspired by Beethoven's Eighth Symphony, debuting with Louis Langrée and the Cincinnati Symphony Orchestra (Nov 19-20).
Explore contemporary orchestral works that are directly inspired by music of the past, from Bach to Stravinsky. Also, peruse our catalog of Beethoven-inspired works below.
> Explore Beethoven-Inspired Works
1. Brett Dean, Carlo
Inspired by: Gesualdo, "Moro lasso"
Duration: 21'
Dean reaches back to the 16th century, quoting madrigals by composer Carlo Gesualdo in this "brilliantly imaginative" (The Times) work for strings, sampler, and tape. At its climax, the piece references Gesualdo's 1590 murder of his wife and her lover.
> Listen
2. Christopher Rouse, Symphony No. 5
Inspired by: Beethoven, Symphony No. 5
Duration: 25'
When writing his own Fifth Symphony, Christopher Rouse looked to Beethoven's Fifth, the piece that made him want to become a composer at age six. Rouse's symphony won the 2020 GRAMMY Award for Best Contemporary Classical Composition, recorded by the Nashville Symphony and Giancarlo Guerrero.
> Listen
3. Anna Clyne, Sound and Fury
Inspired by: Haydn, Symphony No. 60, "Il Distratto"
Duration: 15'
Elements of Haydn's "Il Distratto" are layered, stretched, fragmented, and looped as they merge with Clyne's own voice in this chamber work that is by turns agitated—with fiery strings—and serene and reflective, with warm melodies and lush harmonies.
> Watch
4. Detlev Glanert, Idyllium
Inspired by Brahms, Symphony No. 2
Duration: 10'
Like Four Preludes and Serious Songs and Brahms-Fantasie before it, Idyllium sees Glanert reflecting once more on the music of Brahms, this time crafting a cheerful, pastoral atmosphere, like that of Brahms's Second Symphony, and ending on a similarly triumphant note.
5. J.S. Bach–Harrison Birtwistle, Bach Measures
Inspired by: Bach, Chorale Preludes
Duration: 23'
Bach's Chorale Preludes for organ are colorfully transcribed for chamber orchestra by Harrison Birtwistle. "Pearly luminosity ... Bach organ vignettes laid bare in teasing arrangements for strings, brass and woodwind." —The Times
6. Chin, Frontispiece
Inspired by: Various composers
Duration: 8'
Frontispiece, premiered in 2019 by Alan Gilbert and the NDR Elbphilharmonie Orchester, takes audiences through a time lapse of music history—chord sequences by Bruckner encounter splinters of Strauss, Scriabin, and Stravinsky, while Tchaikovsky is reinterpreted through the lens of Boulez.
> Listen

Boosey & Hawkes Composer News