Happy Birthday, Beethoven!
(December 2020)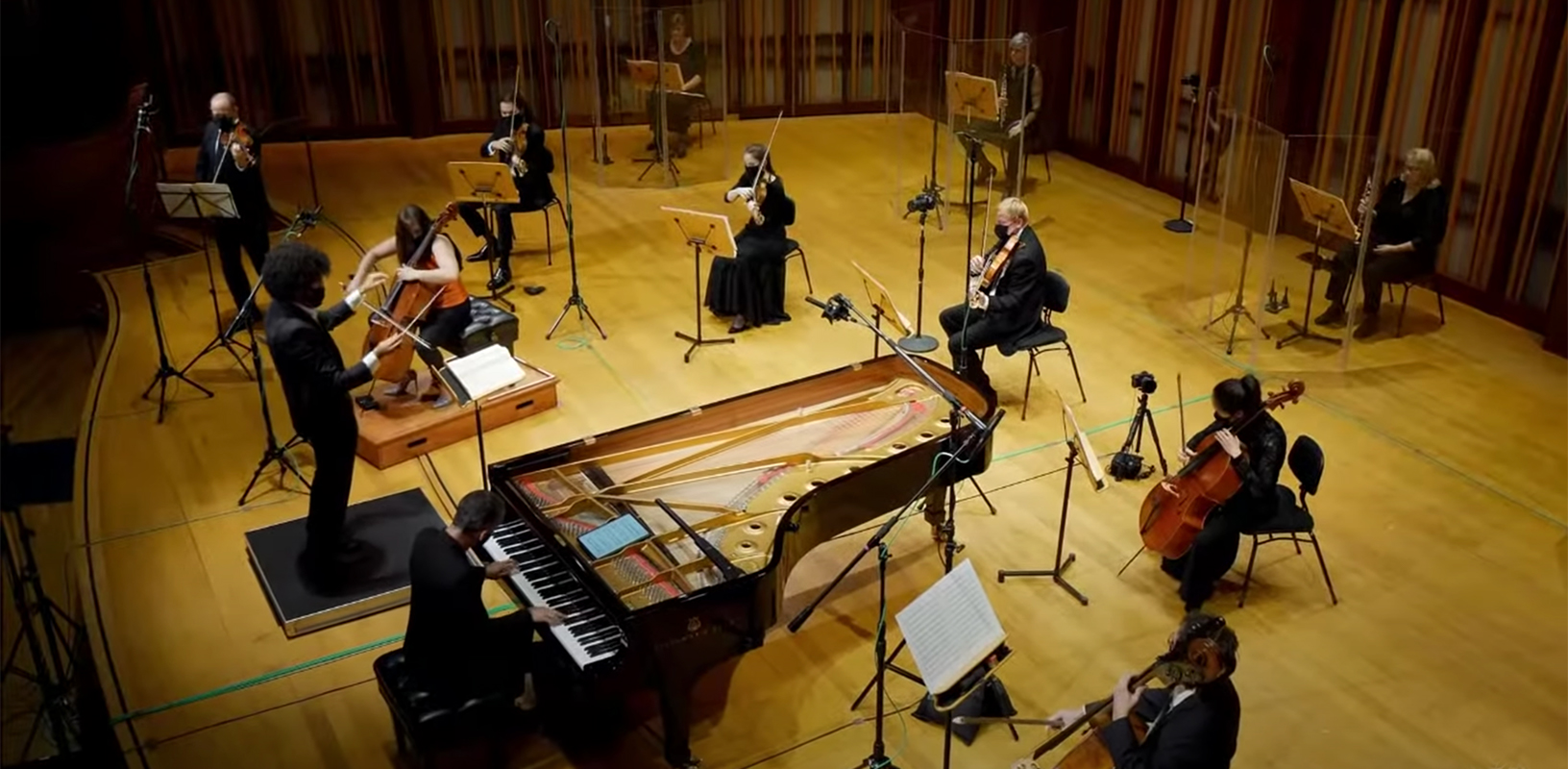 As we celebrate Beethoven's 250th birthday on December 16, 2020, we look back on several performance highlights from this year of contemporary works inspired by the Classical titan, including some brand-new works.
Composers today continue to be inspired by the Classical titan's legacy. While many planned festivities for Ludwig van Beethoven's 250th anniversary in 2020 have had to be postponed this year, several concerts featuring contemporary Beethoven-inspired works managed to shine through this year. Read on for highlights of this year's Beethoven festivities around the world.
> View Beethoven-inspired works in the Boosey catalog in our "Dialogue with Beethoven 2020" brochure.
At the beginning of the year, the Doric String Quartet joined the BBC Symphony Orchestra led by Joana Carneiro perform John Adams's Absolute Jest, an energetic scherzo for string quartet and orchestra that draws on fragments from Beethoven's Op. 131 and Op. 135 string quartets and Große Fuge. The work has become one of Adams's most popular works with more than 80 performances worldwide since its premiere.
Anna Clyne has composed a trilogy of Beethoven-inspired works that premiered this year: Breathing Statues for string quartet, Shorthand (versions for solo cello & string quintet and solo cello & string orchestra), and Stride for string orchestra. Breathing Statues, which premiered with the Calidore String Quartet in February, draws inspiration from a musical "breathing" gesture from Beethoven's famed Große Fuge, and weaves in quotes from several other late Beethoven quartets. Shorthand references two themes from Beethoven's Kreutzer Sonata—the work's two versions, for solo cello & string quartet and solo cello & string orchestra, were premiered by The Knights and with Orlando Philharmonic respectively. For Stride, which premiered with the Australian Chamber Orchestra to great acclaim, Clyne reinterprets signature motives in Beethoven's "Pathétique" Sonata.
> Watch Breathing Statues with the Calidore String Quartet
> Watch Shorthand (chamber version) with The Knights
> Watch Shorthand (string orchestra version) with the Orlando Philharmonic
> Watch Stride with ROCO
Brett Dean has composed a new Piano Concerto in response to Beethoven's "Emperor" Concerto, part of American pianist Jonathan Biss's "Beethoven/5" project that commissioned five composers to write companion pieces to the five Beethoven piano concertos. Biss premiered Dean's new concerto with the Swedish Radio Symphony Orchestra and conductor David Afkham in February.
Dean has previously written works that engaged with Beethoven's work on multiple occasions, including Testament (2008), inspired by the Heiligenstadt Testament. This year, Testament was performed by the Bayerisches Staatsorchester and Vladimir Jurowski in October, and Seattle Symphony and David Robertson in November.
Detlev Glanert created a brilliant chamber arrangement of Beethoven's famous Triple Concerto in 2010 that was performed by the San Diego Symphony and Rafael Payare in October, featuring soloists Jeff Thayer, violin, Alisa Weilerstein, cello, and Inon Barnatan, piano.
> Watch Beethoven's Triple Concerto (arr. Glanert) with the San Diego Symphony
While composing Absence for orchestra, Magnus Lindberg was inspired by Beethoven's conversation books, which he used to carry on conversations with acquaintances and for his personal jottings. Lindberg also incorporates Beethoven quotes into the nine-minute work, as if in conversation with him, from the Piano Sonata "Les Adieux" op. 81a, Second Symphony, and the Ninth Symphony. Absence was premiered in Rotterdam in October, then toured to Dallas and Bournemouth in the fall.Absence is also livestreamed from Germany on December 17 during a special Beethoven birthday concert presented by the Meininger Staatstheater.
> Watch Absence with the Dallas Symphony and Marin Alsop
> Watch Absence presented by the Meininger Staatstheater
Photo: San Diego Symphony performs Beethoven's Triple Concerto, arranged by Detlev Glanert

Boosey & Hawkes Composer News