HK Gruber's pigtale staged in Hamburg
(September 2004)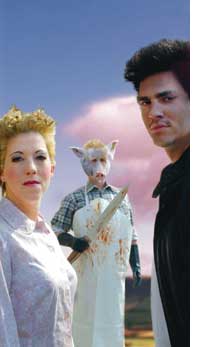 HK Gruber's chamber opera Gloria received an acclaimed new production at the studio of Hamburg Opera in June, conducted by Boris Schaefer and directed by Petra Muller.



This pigtale based on the popular book by Rudolf Herfurtner combines anthropomorphic folk imagery with darker overtones about race and diet. With a performing team of five singers and ten instrumentalists, the work is ideal for small theatres and touring companies, and the Hamburg staging follows productions in the UK and Aspen in a witty translation by Amanda Holden as well as in Munich, Vienna, and Münster.

"The pigsty is a parable about life, society and all of us, completely avoiding moralising undertones: a wonderful pig's breakfast…Gloria is bloody lucky! The butcher has already raised the knife; dried-up bloodstains on his apron announce the approaching massacre - when Rodrigo intervenes at the last minute. Wild boar rescues domestic pig, and the most beautiful sow in the Alps ends up in front of the altar instead of going to her slaughter. Which is, after all, much the same thing… Gruber's music sways between rustic folklore and jazz in dashing distortion."
Hamburger Morgenpost

"…the non-Aryan curly-haired pig that dreams foolishly of a fairy-tale prince while the butcher sharpens the knife appeared to Gruber to be just what he was waiting for - a tale eminently suitable for a low budget chamber opera format. Herfurtner provided the right swilling text for this pigs' parable: a libretto supportive of song and sound with dance rhythms, in upper Bavarian metre… epic theatre out of a Brechtian picture book."
Die Welt

"Costumes mostly in pink, black humour and a colourful mix of styles in the score… This isn't grand opera but a brilliant change from the traditionally tried and trusted. If contemporary opera can poke fun at its own traditions so successfully, the audience is jolly lucky!"
Hamburger Abendblatt

HK Gruber's latest operatic project, Der Herr Nordwind, is scheduled for premiere at the Zürich Opera in June 2005. Commissioned by the Karajan Zentrum, the work sets a libretto by HC Artmann, whose texts Gruber set in Frankenstein!!, for seven singers and chamber orchestra. The cast is headed by Cornelia Kallisch and Oliver Widmer, with production by Michael Sturminger and the composer as conductor.
> Further information on Work: Gloria von Jaxtberg
Photo: poster image for Gloria at the Hamburg Opera

Boosey & Hawkes Composer News