Górecki's Symphony No.4 on new Nonesuch disc
(November 2015)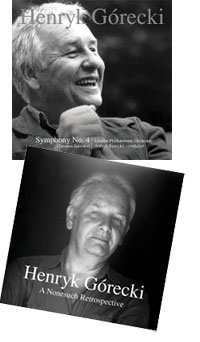 Nonesuch Records releases the premiere recording of Henryk Mikolaj Górecki's last large-scale orchestral work, Symphony No.4, and a box set surveying his output.
January brings three major Górecki releases from Nonesuch, the record company most closely associated with the Polish composer's music. New to disc is Górecki's Symphony No.4: Tansman Episodes, a live recording of the premiere performance by the London Philharmonic Orchestra conducted by Andrey Boreyko. Nonesuch has also compiled a seven-disc box set retrospective of Górecki and releases the classic recording of Symphony No.3 (Symphony of Sorrowful Songs), featuring Dawn Upshaw and the London Sinfonietta, on a vinyl LP for the first time.

Following its world premiere in London in 2014, Symphony No.4 has been performed in Los Angeles, Amsterdam and Milan, at the International Tansman Festival in Lodz and in further Polish performances in Kraków, Warsaw and Górecki's home city of Katowice. As the Daily Telegraph wrote at the premiere, Symphony No.4 "caps Górecki's reputation as an orchestral composer, but it also contains some surprises. The music… features some brutal juxtapositions of massively powerful music with slow, intimate passages for solo instruments, including prominent parts for piano and organ."

The new Nonesuch recording of Symphony No.4, supported by the Adam Mickiewicz Institute as part of the Polska Music programme, is available as a single disc (549570) and within the seven-disc box Henryk Górecki: A Nonesuch Retrospective (550588). The collection encompasses all of Nonesuch's recordings of the composer's works over more than 20 years, with repertoire including Symphony No.3, Miserere, Kleines Requiem für eine Polka, Harpsichord Concerto, Lerchenmusik and all three string quartets played by the Kronos Quartet.

Symphony No.4 was one of a group of late works awaiting premiere at the time of Górecki's death in 2010. Sanctus Adalbertus, his hour-long oratorio for soloists, chorus and orchestra, was finally premiered in Kraków in November as the finale of a gala concert celebrating the 70th anniversary of Polish publishers PWM. The four-movement work was first drafted in 1997 for a planned event honouring the millennium of the martyrdom of Bishop Adalbert (Wojciech in Polish), the country's first patron saint. The performance plans were however cancelled and the oratorio remained unperformed for 18 years. Similarly the Kyrie for chorus, percussion, piano and string orchestra, dating from 2005, was intended for a complete Mass setting that never came to fruition.The 20-minute work was premiered in Warsaw in 2014 and received its UK premiere at the BBC's Total Immersion day devoted to Górecki's music at the Barbican in London in October.
> Further information on Work: Symphony No.4

Boosey & Hawkes Composer News