Górecki: Tristan Postludes in Warsaw and Liverpool
(January 2017)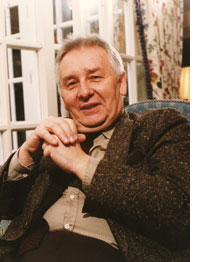 Recent years have brought premieres of a number of works left unperformed at the composer's death in 2010. The latest to see the light is his Two Tristan Postludes and Chorale.
Henryk Mikolaj Górecki's Two Tristan Postludes and Chorale received its posthumous premiere in Warsaw in October under the auspices of the Tansman Festival, with Jerzy Maksymiuk conducting Sinfonia Varsovia. The 20-minute orchestral work was given its UK premiere the following month by the Royal Liverpool Philharmonic Orchestra and young Polish conductor Patrycja Pieczara.

Górecki's triptych dates from 2004 in a period when the composer was particularly fascinated by Wagner and specifically Tristan, with its turning away from earthly values and exploration of memory. The music was left in short score at his death and the orchestration has been completed by his son, composer Mikolaj Górecki, with strings joined by characteristic resonances from piano, harp, tubular bells and glockenspiel.

> View the work at our Online Scores area 

Górecki's Symphony No.4, which bears the subtitle Tansman Episodes, has just been published as a study score by Boosey & Hawkes. A choral score of a further posthumously premiered work, Kyrie for SATB chorus, percussion, piano and strings, is also newly available on sale.
> Further information on Work: Two Tristan Postludes and Chorale
Photo: © Jean Guyaux/Elektra Nonesuch

Boosey & Hawkes Composer News