Górecki Symphony No.4: reviews from premiere in London
(May 2014)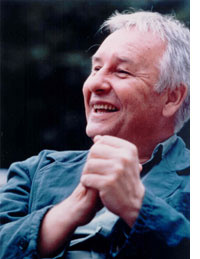 The long-awaited world premiere of Henryk Mikolaj Górecki's Symphony No.4 caused a stir in London in April.
"As world premieres go, few will be as feverishly anticipated this year as Henryk Górecki's Symphony No 4." So wrote the Daily Telegraph of the work's posthumous premiere at the Royal Festival Hall in London in April. "…it is being unveiled four years late after the first planned performance was abandoned due to the Polish composer's ill-health (he died shortly afterwards in November 2010)… Symphony No 4 is an ambitious, hypnotic work, and, rather movingly, it acts as a meditation by Górecki on the many styles he adopted and developed during a long and successful career."

"Henryk Górecki's Fourth Symphony, Tansman Episodes, was left incomplete [in short score] on his death in 2010. His son Mikolaj prepared the performing edition that was premiered by the London Philharmonic Orchestra under the conductor Andrey Boreyko, working from his father's manuscript and from his memories of Górecki's comments on its orchestration. We had been primed to expect something less contemplative than Górecki's Symphony of Sorrowful Songs… yet the two works have more in common than might be apparent from the bombardment of fortississimo dissonance as the Harrison organ interrupts the emphatic hymnody of the orchestra, its theme derived from the letters of Alexandre Tansman's name."
The Times

"Massive and violently contrasting blocks of ideas dominate the four-movement, 40-minute span; multiple repetitions of the opening chordal sequence, interspersed by almighty blows on three bass drums, are characteristic… An expressive solo cello, later joined by a violin, both floated over a soft piano accompaniment, form the still chamber-like centre of the otherwise manically vigorous scherzo. The extremity of such individual ideas, and the replacement of any sense of development by sheer repetition, give the symphony a rough-hewn, monumental feel."
The Guardian

Further performances of Symphony No.4 are scheduled by the Los Angeles Philharmonic and Andrey Boreyko on 16 January and by the Netherlands Radio Philharmonic Orchestra in the ZaterdagMatinee series conducted by Reinbert de Leeuw in Amsterdam on 14 February. Plans are underway for the symphony's Polish premiere organised by the International Tansman Festival in Lodz next May.
> Further information on Work: Symphony No.4
Photo: Gerry Hurkmans

Boosey & Hawkes Composer News