Elena Kats-Chernin: new digital publications of chamber works
(February 2021)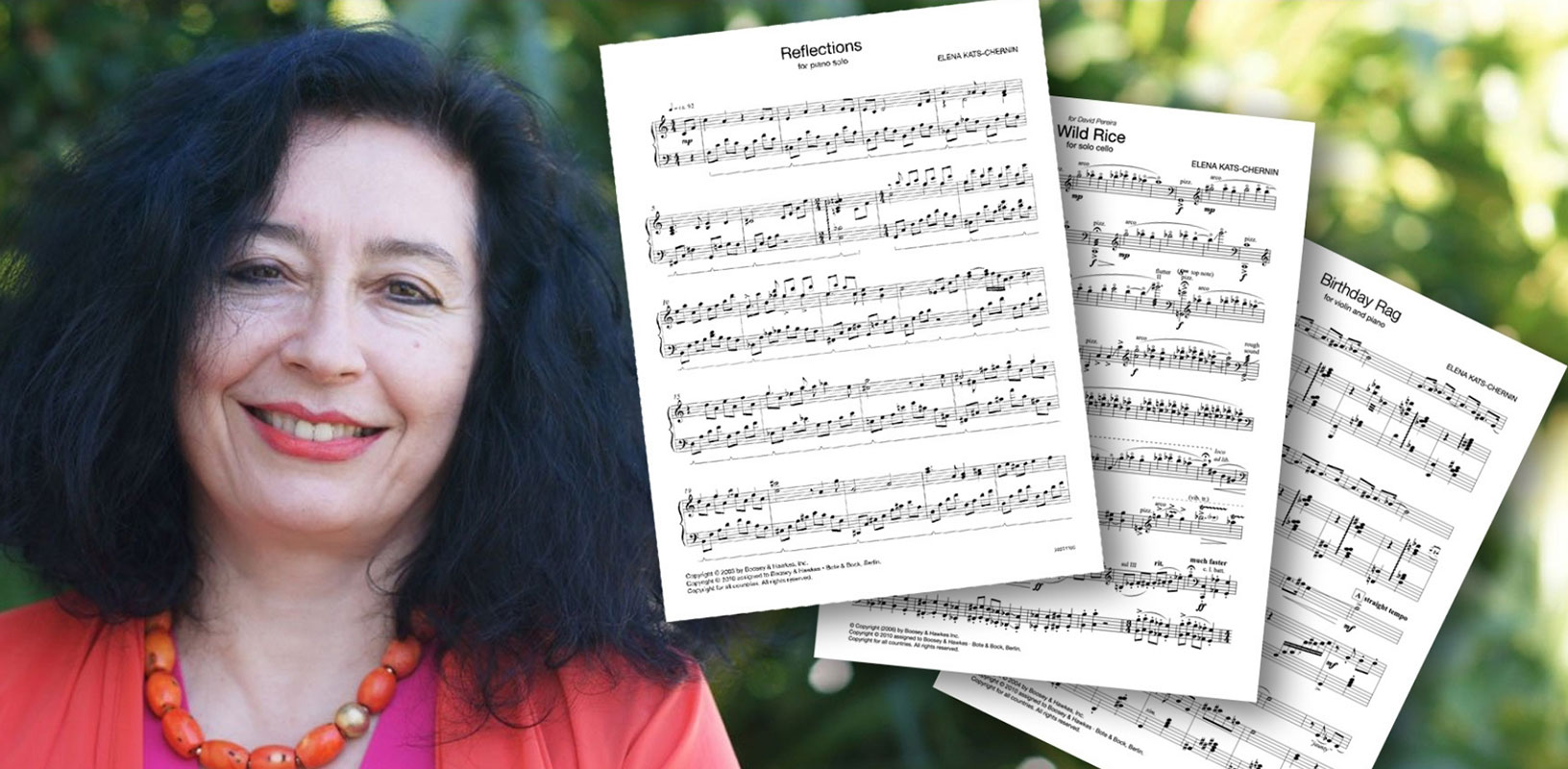 A selection of Elena Kats-Chernin's attractive works are now available on sale as digital publications for the first time. The 20 pieces for instrumental, piano, vocal and chamber forces range from rags and blues to songs and lullabies.
Australian-resident composer Elena Kats-Chernin is a master of the miniature, capturing a sudden mood, dance rhythm or memorable melodic arc into music. Her catalogue has grown with the addition of 20 new digital publications, available on sale for the first time from The Shop at Boosey.com and other digital stores. The selection ranges from solos for piano, cello and saxophone, through instrumental works with piano accompaniment and vocal numbers, to chamber trios and music for string quartet.
> View the new digital publications
As an introduction to the new set of publications, Elena Kats-Chernin has recorded a lockdown video of herself playing her piano work Reflections at home in Sydney, and offering a message to listeners.
> Watch Elena Kats-Chernin play Reflections
Elena Kats-Chernin, born in Tashkent in 1957, is one of the most cosmopolitan composers working today, having reached millions of listeners worldwide through her prolific catalogue of works for theatre, ballet, orchestra, and chamber ensemble. Her dramatically vivid music communicates a mixture of lightheartedness and heavy melancholy, combining strong rhythmic figures with elements of cabaret, tango, ragtime, and klezmer. She is also known for Eliza Aria, drawn from her ballet Wild Swans, which was used in the long-running Lloyds TSB advertising campaign For the journey.
> Listen to Lang Lang play Eliza Aria
> View the music of Eliza Aria
Her most popular publications include two piano albums, Piano Village and Unsent Love Letters. Piano Village is a collection of 25 short keyboard pieces from intermediate to advanced level, including Eliza Aria and Russian Rag, guaranteed to entertain, disarm and amuse. Unsent Love Letters is a sequence of 26 meditations from Kats-Chernin on the life and music of the great eccentric Erik Satie, forming a personal memoir from one composer to another. The album was recorded by pianist Tamara-Anna Cislowska for ABC Classics in 2017 and released digitally by Deutsche Grammophon.
Elena Kats-Chernin's Piano Concerto No.3 'Lebewohl', reflecting on JS Bach's loss of his first wife Maria, received its UK premiere in December with Alexandra Silocea and the London Philharmonic Orchestra under Vladimir Jurowski, and the streamed performance remains available to Marquee TV subscribers. Her latest large-scale stagework is the first operatic version of the Kenneth Grahame classic The Wind in the Willows, planned for premiere by the Kassel Staatstheater in June 2021.

Boosey & Hawkes Composer News