Boosey & Hawkes wins two 2021 Paul Revere Awards for Graphic Excellence
(June 2021)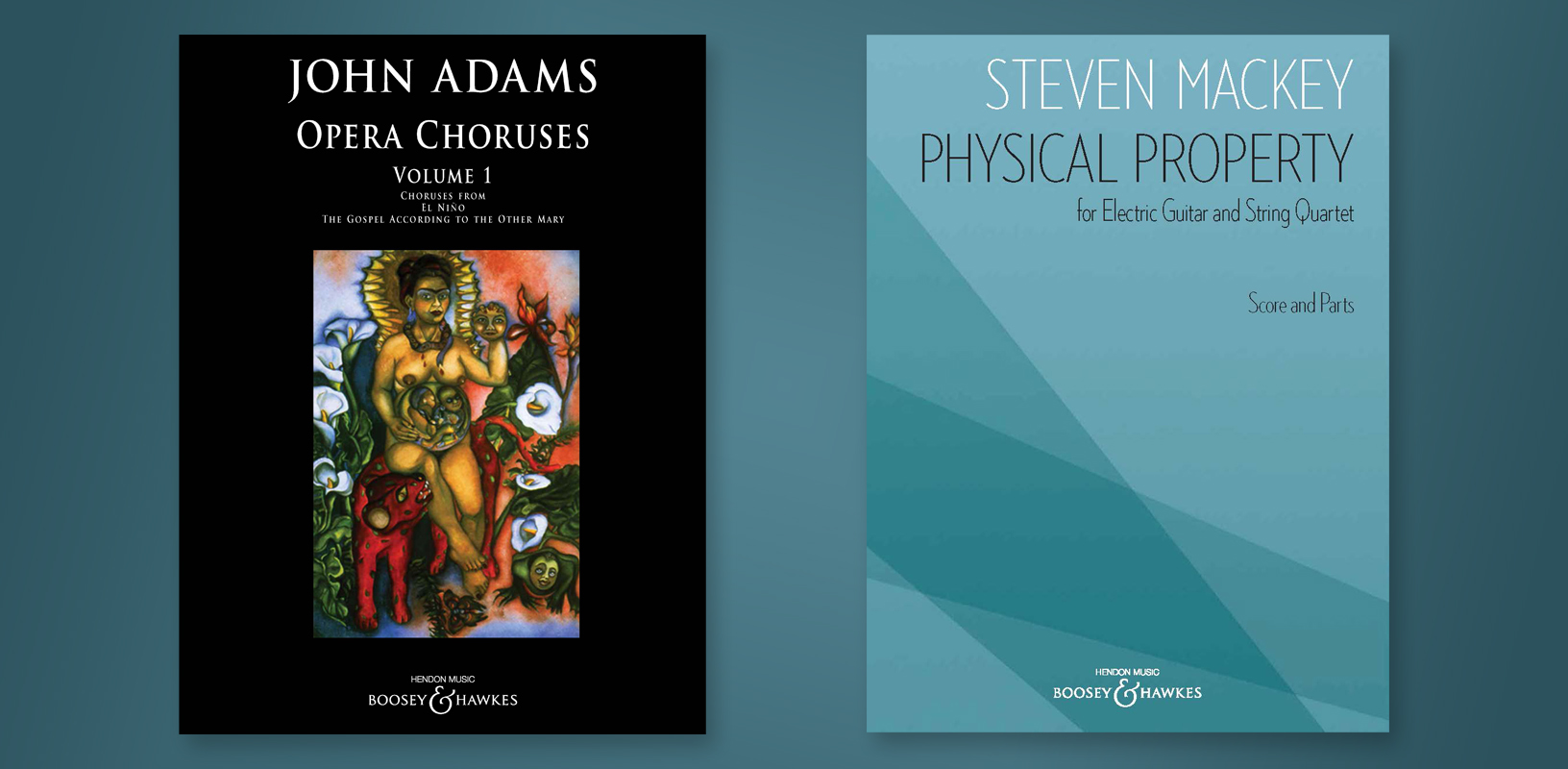 Boosey & Hawkes won first prizes for notesetting for two of its publications at the 2021 Music Publishers Association's Paul Revere Awards: John Adams' Opera Choruses Vol. 1 and Steven Mackey's Physical Property.
The Boosey & Hawkes editorial team received two top awards at the 2021 ceremony, announced June 11, 2021: First Prize in Piano/Vocal Notesetting for John Adams' Opera Choruses Vol. 1, and First Prize in Chamber Ensemble Notesetting for Steven Mackey's Physical Property.
Opera Choruses Vol. 1 is the first of a three-volume collection of choruses from John Adams's renowned operas, made available for the first time this year with newly arranged piano accompaniment by Chitose Okashiro, and edited by acclaimed conductor Grant Gershon. Senior Director of Editorial, Maggie Heskin acted as notesetter and production coordinator on the volumes. Volume 1 features choral selections from Adams's two biblical oratorios: El Niño, which tells the Nativity story, and The Gospel According to the Other Mary, the story of the Passion, which The New York Times called "an extraordinary work, containing some of Mr. Adams's richest, most daring music." The second and third volumes feature choral selections from Nixon in China, Doctor Atomic, A Flowering Tree, and The Death of Klinghoffer.
> Learn more about the Opera Choruses
Steven Mackey's Physical Property is the third of a trilogy for electric guitar and string quartet, following On the Verge and Troubadour Songs. The piece is inspired by the energy of live performance and the joyous freedom Mackey recalls experiencing as a professional freestyle skier from ages 18-20. Kyle Tieman-Strauss was notesetter and production coordinator on the score.
> Listen to a recording of Physical Property by Kronos Quartet
The Paul Revere Awards were established in 1964 in honor of America's first music engraver and American Revolution patriot Paul Revere and are presented to music publishers annually by the MPA in recognition of publications that best exemplify high standards in music engraving, design, and utility. Publications are eligible to win prizes in 13 separate award categories, ranging from educational folios to piano and guitar solos to choral and full orchestra scores. This year's awards were presented by composer and music journalist Frank J. Oteri.
> Watch the ceremony on YouTube
Notesetting: Piano/Vocal
First Prize
John Adams, Opera Choruses, Vol. 1
Notesetter: Maggie Heskin
Production Coordinator: Maggie Heskin
Notesetting: Solos without accompaniment
First Prize
Steven Mackey, Physical Property
Notesetter: Kyle Tieman-Strauss
Production Coordinator: Kyle Tieman-Strauss

Boosey & Hawkes Composer News