Boosey & Hawkes launches new digital shops
(August 2020)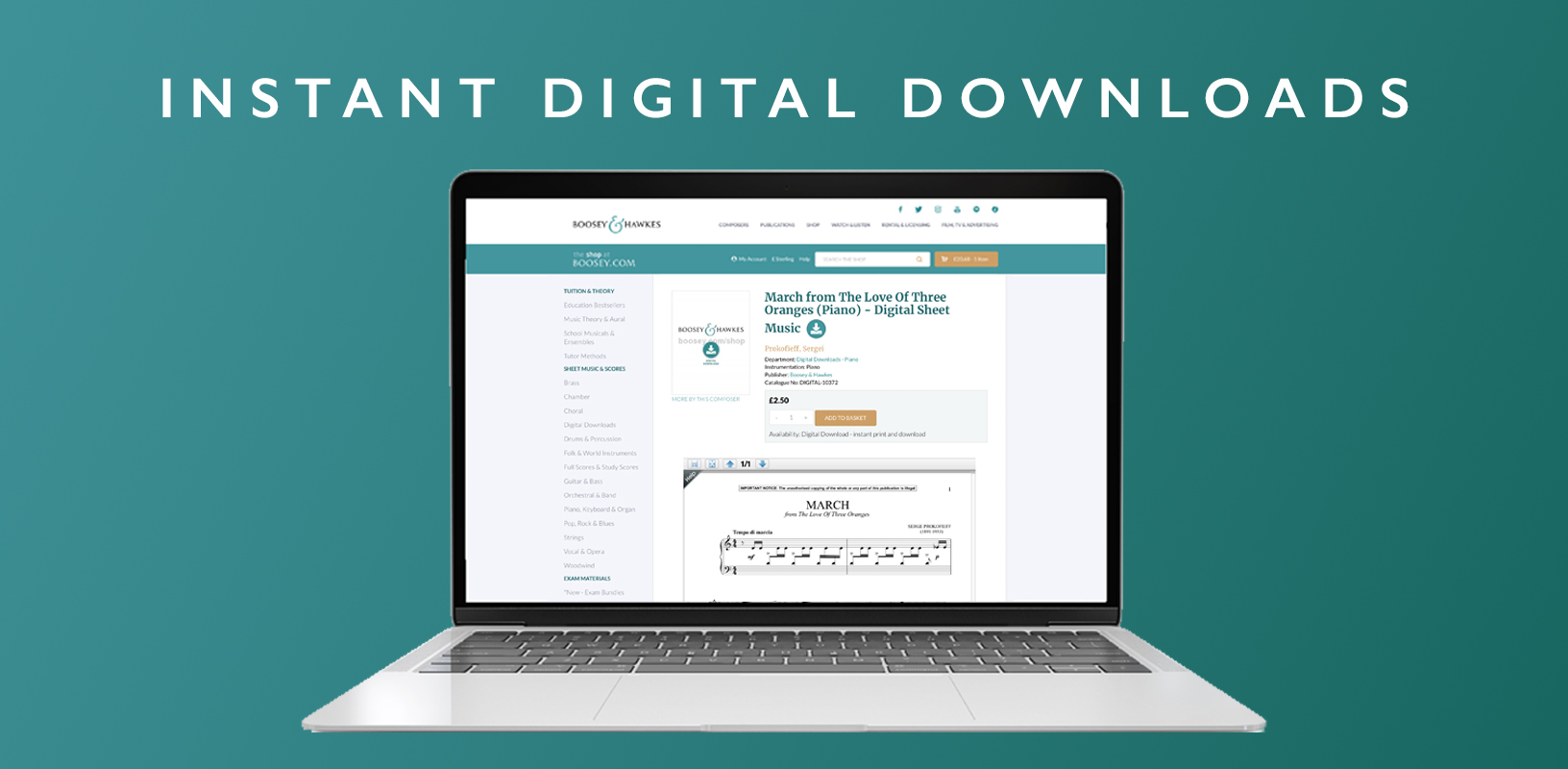 Digital products are now available directly from The Shop at Boosey.com and the ABRSM Shop for the first time.
Boosey & Hawkes is pleased to announce that digital products are now available for purchase directly from The Shop at Boosey.com. The service is provided in collaboration with Faber E-Partners and the initial launch offers over 20,000 products published by Boosey & Hawkes and Faber Music, with products by other E-Partner publishers to be added over coming months.
> Visit our Digital Downloads store
The products are downloadable direct to the customer's device, where they can be printed by the customer or viewed on screen. With the digital platform fully integrated into The Shop at Boosey.com, customers now have options to purchase both printed products by mail order and digital downloads.
Boosey & Hawkes has also signed an agreement with The Associated Board of the Royal Schools of Music (ABRSM) to offer digital product on the ABRSM Shop, which Boosey & Hawkes has operated successfully for the past ten years.
ABRSM has make a selection of pieces from its Piano syllabus available as digital sheet music downloads for the first time. ABRSM's Piano syllabus 2021 & 2022 was launched on 9 July, and comes into effect on 1 January 2021. The new syllabus has completely revised repertoire choices and list structure, with lists defined by musical characteristics rather than period of composition. 48 pieces are now available as downloads, and will provide a broad selection of the diverse choice of inspirational pieces from the lists for Initial to Grade 8.
Boosey & Hawkes is a leading provider of services for the music community, with a retailing history stretching from 1792, when its first shop opened, to today's digital shopping technology. The development of The Shop at Boosey.com from 2004 witnessed a strategic move from bricks and mortar to ecommerce operations. The inventory now features music from all international publishers with over 500,000 products. Since 2010 Boosey & Hawkes has operated franchise online shops for leading exam boards including ABRSM, Trinity College London and the London College of Music, with a full guide to music publications matching each syllabus.

Boosey & Hawkes Composer News