Boosey & Hawkes Partners with Realtime Music Solutions to Provide New Digital Software to Perform Electronic Elements to Works
(May 2012)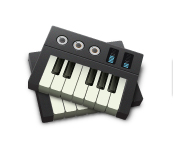 KeyboardEase™ offers an easy, cost-effective solution to performing sound patch works with plug and play software
Boosey & Hawkes is now working with KeyboardEase™, powered by Realtime Music Solutions, to provide a new digital software to more easily perform works from our catalogue that have electronic elements. This software will save performing organizations time and money, as well as avoid production headaches with complicated equipment.

KeyboardEase™ is a performance tool that contains the composer's pre-assembled authentic synthesizer sounds in a sequential order for your concert. This software eliminates the expensive and time-consuming process to obtain out-dated and hard to find equipment and keyboards in addition to the corresponding customized software patches. Instead, KeyboardEase™ will provide all synthesizer sounds needed to perform the original synthesizer patches from easily downloaded software. Performers can use virtually any midi-enabled keyboard and a computer to recreate the electronic instruments and sounds required to perform these works.

At this time, four works from the Boosey & Hawkes catalogue are available through KeyboardEase™:

John Adams: Chamber Symphony
John Adams: Son of Chamber Symphony
John Adams: The Wound-Dresser
Steve Reich: Sextet

KeyboardEase™ will create synthesizer patches for additional works moving forward, allowing for more works to be more easily performed with modern equipment. Organizations wishing to perform these (and future works as they become available) must still contact Boosey & Hawkes for a rental order, as before, and obtain an additional software license from Realtime Music Solutions. Boosey & Hawkes will assist in connecting you with Realtime when an order is placed.

> For more information on Realtime Music Solutions and KeyboardEase™, click here.

Boosey & Hawkes Composer News