Boosey & Hawkes Chamber Operas
(May 2020)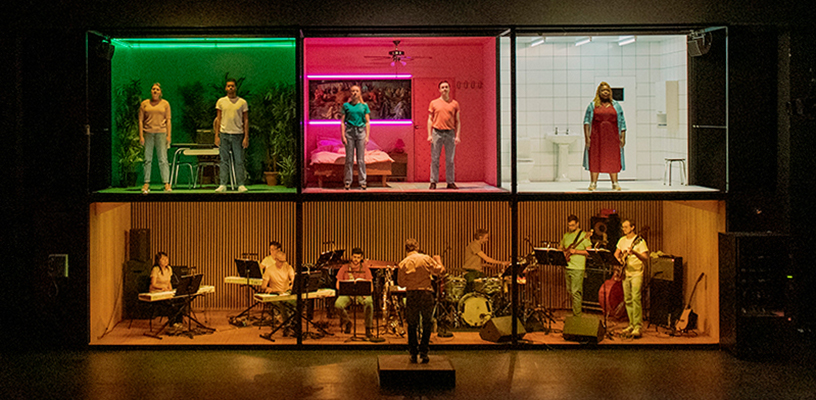 Boosey's catalog contains a wealth of chamber opera gems—from well-known classic works arranged for smaller forces, to contemporary works that employ compact, imaginative scoring.
Below is a list of chamber operas published by Boosey—featuring few singers onstage and reduced instrumental forces—giving opera companies the flexibility to present great art under new guidelines while we recover together.
Listen to our YouTube playlist of chamber operas here.
Michel van der Aa: After Life
Opera for 6 singers, ensemble, video and electronic soundtrack
Duration: 100 minutes
John Adams: I Was Looking at the Ceiling and then I Saw the Sky
Songplay in two acts
Duration: 110 minutes
Louis Andriessen: Anaïs Nin
For amplified singer, ensemble, and film
Duration: 30 minutes
Dominick Argento: A Postcard from Morocco
Chamber opera in one act
Duration: 90 minutes
Jack Beeson: Lizzie Borden
Chamber version in seven scenes
Duration: 90 minutes
Jack Beeson: Dr Heidegger's Fountain of Youth
Chamber opera in one act
Duration: 42 minutes
Leonard Bernstein: A Quiet Place
New version with chamber ensemble
Duration: 100 minutes
Leonard Bernstein: Trouble in Tahiti
One act opera in seven scenes
Duration: 40 minutes
> 8-instrument version
> 15-instrument version
Harrison Birtwistle: The Io Passion
Chamber opera
Duration: 95 minutes
Harrison Birtwistle: The Corridor
A scena for soprano, tenor and ensemble
Duration: 48 minutes
Harrison Birtwistle: The Cure
for two singers and ensemble
Duration: 56 minutes
Benjamin Britten: The Turn of the Screw
Chamber opera in a prologue and two acts
Duration: 101 minutes
Benjamin Britten: Albert Herring
Comic opera in three acts
Duration: 137 minutes
Benjamin Britten: The Rape of Lucretia
Chamber opera in two acts
Duration: 107 minutes
Luigi Cherubini: The Betrothed of Three and the Husband of None
Dramma giocoso per musica
Duration: 150 minutes
Carlisle Floyd: Slow Dusk
A musical play in one act
Duration: 40 minutes
Detlev Glanert: Three Water Plays
Three chamber operas based on the 'Three Minute Plays' by Thornton Wilder
Leviathan / Der Engel auf dem Schiff / Der Engel, der das Wasser bewegte
Duration: 58 minutes
Detlev Glanert: Nijinsky's Diary
For two singers, two actors, two dancers and instrumental ensemble
Duration: 95 minutes
HK Gruber: Gloria von Jaxtberg
Music-theatre piece in two acts for 5 singers and 9 musicians
Duration: 90 minutes
Elena Kats-Chernin: Iphis
Opera for six singers and nine musicians
Duration: 70 minutes
Argyris Kounadis: The Sandman
Ten scenes
Duration: 90 minutes
David T. Little: Dog Days
Opera in three acts for 6 singers, 1 actor and amplified chamber ensemble
Duration: 127 minutes
David T. Little: Vinkensport, or The Finch Opera
Chamber opera version
Duration: 40 minutes
Tod Machover: Schoenberg in Hollywood
Chamber opera
Duration: 90 minutes
James MacMillan: Clemency
Chamber opera for 5 singers and string orchestra
Duration: 45 minutes
James MacMillan: Parthenogenesis
Scena for soprano, baritone, actress and chamber ensemble
Duration: 50 minutes
Bohuslav Martinu: The Marriage
Opéra-bouffe in one act
Duration: 45 minutes
Peter Maxwell Davies: Mr Emmet Takes a Walk
A Dramatic Sonata
Duration: 60 minutes
Jacques Offenbach: Croquefer ou Le dernier des Paladins
Opéra-bouffe in one act
Duration: 45 minutes
> 13-instrument version
> 5-instrument version
Jacques Offenbach: Mesdames de la Halle
Opérette-bouffe in one act
Duration: 50 minutes
Jacques Offenbach: Le Soldat magician
Opéra-comique in one act
Duration: 55 minutes
Sergei Prokofieff: The Fiery Angel
Opera in five acts and seven scenes (15-instrument version)
Duration: 125 minutes
Steve Reich: The Cave
Audio-visual music theatre work
Duration: 122 minutes
Steve Reich: Three Tales
For vocal quintet and ensemble with video projection
Duration: 60 minutes
Ned Rorem: Hearing
Five Scenes for 4 Singers and 7 Instrumentalists
Duration: 22 minutes
Ned Rorem: Robbers
Melodrama in one scene
Duration: 28 minutes
Iris ter Schiphorst / Helmut Oehring: Silence Moves I
Soundtrack for an imaginary film
Duration: 60 minutes
Mark Simpson: Pleasure
Chamber opera
Duration: 70 minutes
Igor Stravinsky: Mavra
Opera buffa in one act (5- and 6-instrument versions)
Duration: 25 minutes
Pyotr Ilyich Tchaikovsky: Eugene Onegin
Lyrical scenes in three acts (10-instrument version)
Duration: 150 minutes
Mark-Anthony Turnage: Coraline
Opera for family audiences
Duration: 100 minutes
Claude Vivier: Kopernikus
Opera in 2 acts, for 7 singers, 7 (or 8) players and tape
Duration: 70 minutes
Photo: John Adams, I Was Looking at the Ceiling and then I Saw the Sky

Boosey & Hawkes Composer News