Anna Clyne: Associate Composer with the Scottish Chamber Orchestra
(March 2019)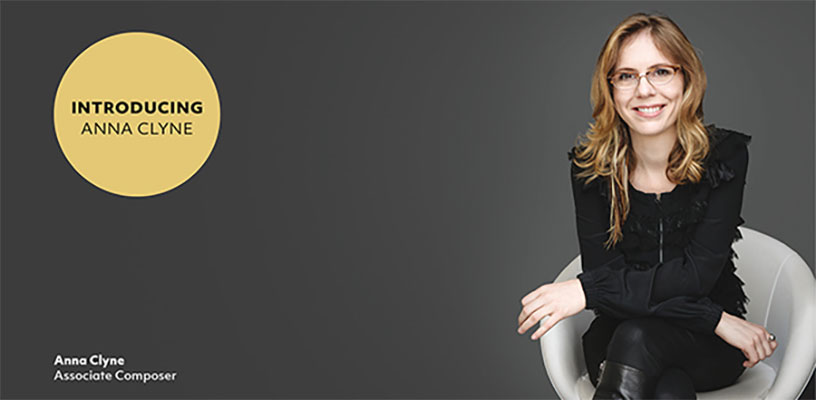 Anna Clyne has been announced as the Scottish Chamber Orchestra's new Associate Composer for the next three years, including plans for performances and a newly commissioned work.
The Scottish Chamber Orchestra has announced that Anna Clyne, UK born and now US resident, will be its Associate Composer for the next three years. This will see Clyne returning to the city where she was a music student at Edinburgh University for Scottish performances in coming seasons.
As well as a new commission - the first in a series of new works over the next three years - Anna's double violin concerto Prince of Clouds will be performed by Finnish violinst Pekka Kuusisto and SCO Leader Benjamin Marquise Gilmore in November 2019. Her new work finds inspiration from Haydn's 'Il Distratto' Symphony, which it will be performed alongside. Anna will be working closely with the SCO players to create passages specifically for them.
Anna Clyne commented: "I am thrilled to have the opportunity to work with the wonderful musicians of the Scottish Chamber Orchestra. We have lots of exciting plans including developing new content for their outstanding creative learning programme."
The Scottish Chamber Orchestra is touring Clyne's Within Her Arms in the UK this spring, travelling onwards to Tivoli in Copenhagen and the Mozartfest in Würzburg. Other Scottish connections for the composer include her orchestral work Beltane, premiered by the BBC Scottish Symphony Orchestra under Thomas Dausgard in 2017, which celebrates the festivities she witnessed as a student in Edinburgh, announcing the victory of summer over winter.
During the 2010s Anna Clyne has developed into a sought-after composer of symphonic music, with an output also encompassing powerful chamber pieces with electronics, intimate string ensemble works and colourful scores forging musical links with art or dance. Clyne's music has been championed on the rostrum by Marin Alsop and Riccardo Muti, as well as by an emerging generation of conductors including Elim Chan, Alpesh Chauhan, Ben Gernon, Cristian Macelaru, Enrique Mazzola, Robert Trevino and Joshua Weilerstein.
Photo: Javier Oddo

Boosey & Hawkes Composer News