2022 US Summer Festival Highlights
(June 2022)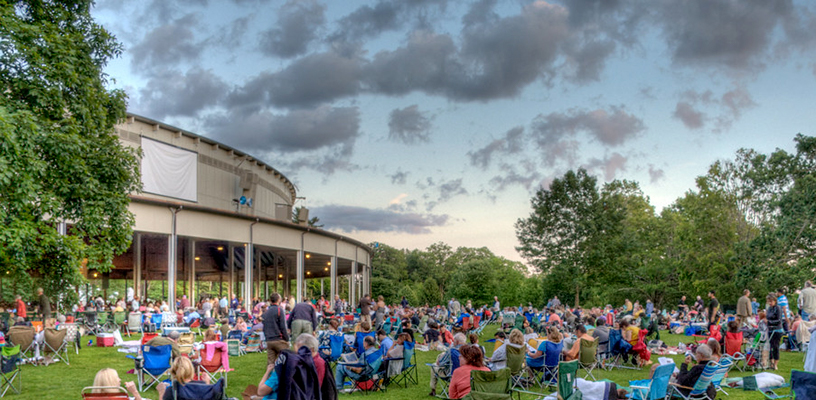 A compiled list of 2022 summer festival highlights around the United States.
This year's summer festivals in the US present many notable, adventurous offerings, including premieres of new works, composer residencies, and rarely performed older works. Read on for programming highlights around the US, organized by presenting organization below.
Aspen Music Festival
Aspen, Colorado
The Aspen Contemporary Ensemble performs Gabriela Ortiz's Corporea for mixed chamber ensemble—a work the composer describes as "playing with the pendulum between the spiritual and the visceral."
Jul 23 Gabriela Ortiz, Corpórea
Aug 14 Sergei Prokofieff, Piano Concerto No. 3 in C Major, Op. 26 (Joyce Yang, piano)
Cabrillo Festival of Contemporary Music
Santa Cruz, California
The Cabrillo Festival closes its summer season with a tribute to longtime festival favorite, composer Christopher Rouse: Music Director Cristi Macelaru leads the Festival Orchestra in Rouse's darkly expressive final work, Symphony No. 6.
Aug 7 Christopher Rouse, Symphony No. 6
Colorado Music Festival
Boulder, Colorado
John Adams is the Colorado Music Festival's 2022 composer-in-residence. The festival features seven concerts of the composer's orchestral and chamber works, including Absolute Jest, featuring the Takács Quartet as soloists with the festival orchestra, selections from John's Book of Alleged Dances performed by the Attacca Quartet, and his recent piano concerto Must the Devil Have All the Good Tunes?, featuring pianist Jeremy Denk.
Jun 30 & Jul 1 John Adams, Absolute Jest (Takács Quartet)
Jul 12 John Adams, selections from John's Book of Alleged Dances (Attacca Quartet)
Jul 14 John Adams, City Noir (Timothy McAllister, saxophone)
Jul 15 John Adams, Road Movies; Osvaldo Golijov, Last Round
Jul 17 John Adams, Must the Devil Have All the Good Tunes? (Jeremy Denk, Piano); Christopher Rouse, Symphony No. 6
Aug 2 Purcell (arr. Benjamin Britten), Chacony in G Minor for string quartet (Danish String Quartet)
Grand Teton Music Festival
Jackson Hole, Wyoming
Sir Donald Runnicles conducts the US premiere of Detlev Glanert's Idyllium for orchestra, part of Glanert's series of homages to Brahms's symphonies. Idyllium is paired with Brahms's First Symphony on this August 19-20 program.
Jul 15 & 16 John Adams, Absolute Jest (St. Lawrence String Quartet; Igor Stravinsky, Petrushka
Jul 22 & 23 Sergei Prokofieff, Violin Concerto No. 2
Aug 19 & 20 Detlev Glanert, Idyllium (US Premiere)
Grant Park Music Festival
Chicago, Illinois
Part symphony, part oratorio, Britten's Spring Symphony is, in the composer's words, "a symphony not only dealing with the Spring itself but with the progress of Winter to Spring and the reawakening of the earth and life which that means." Other festival highlights include Clyne's This Midnight Hour—inspired by poetry by Jiménez and Baudelaire—and Eric Whitacre's choral favorite Lux aurumque.
Jun 22 Anna Clyne, This Midnight Hour
Jun 29-Jul 1 Benjamin Britten, Spring Symphony
Jul 2 Aaron Copland, "The Promise of Living" from The Tender Land
Jul 22-23 Sergei Rachmaninoff, Piano Concerto No. 2; Béla Bartók, Concerto for Orchestra
Aug 4 Eric Whitacre, Lux aurumque
Ravinia
Highland Park, Illinois
Three Taki Alsop fellows conduct the Chicago Symphony Orchestra in Michael Daugherty's Time Machine, which divides the orchestra into three spatially separated groups, each led by its own conductor. Gabriela Ortiz's Téenek is a musical meditation on how differences amongst us can help strengthen and uplift our sense of identity. Clyne's Shorthand, which draws on themes from Beethoven's Kreutzer Sonata, is performed by The Knights as part of the ensemble's "Kreutzer Project."
Jul 29 Michael Daugherty, Time Machine
Jul 30 Leonard Bernstein, Symphony No. 3 (Kaddish); Osvaldo Golijov, Rose of the Winds
Aug 3 Leonard Bernstein, Overture to Candide, Symphonic Dances from West Side Story, Divertimento for Orchestra
Aug 5 Gabriela Ortiz, Téenek (Invenciones de territorio); Aaron Copland, El Salón México
Aug 18 Modest Mussorgsky, Pictures at an Exhibition (arr. Maurice Ravel)
Aug 28 Béla Bartók, Contrasts
Sep 13 Anna Clyne, Shorthand (The Knights)
Santa Fe Chamber Music Festival
Santa Fe, New Mexico
The FLUX Quartet premieres Detlev Glanert's Third String Quartet, an introspective work written during the third lockdown in Germany and the beginning of the Ukrainian war. The quartet threads the same musical material across its three movements.
Aug 5 Detlev Glanert, String Quartet No. 3 (World Premiere; Flux Quartet)
Tanglewood
Lenox, Massachussetts
Tanglewood opens its 2022 season with intriguing selections by Bernstein: Opening Prayer for baritone and orchestra (written for the reopening of Carnegie Hall in 1986), and Symphony No. 2: The Age of Anxiety, featuring pianist Jean-Yves Thibaudet. The festival also spotlights Anna Clyne's exuberant Masquerade, and two works by Unsuk Chin: ParaMetaString for string quartet and tape, and subito con forza, a 2020 orchestral work that draws on Beethoven's "Coriolan" Overture.
Jul 8 Leonard Bernstein, Opening Prayer, Symphony No. 2: The Age of Anxiety (Jean-Yves Thibaudet, piano); Igor Stravinsky, The Rite of Spring
Jul 10 Sergei Rachmaninoff, Symphony No. 3
Jul 16 Anna Clyne, Masquerade (BU Tanglewood Institute Young Artists Orchestra)
Jul 21 Aaron Copland, Sextet for clarinet, piano, and string quartet
Jul 22 Sergei Rachmaninoff, Symphonic Dances
Jul 31 Igor Stravinsky, Agon
Aug 6 Unsuk Chin, ParaMetaString (TMC Chamber Music)
Aug 14 Anna Clyne, Masquerade
Aug 14 Béla Bartók, Suite from The Miraculous Mandarin; Sergei Rachmaninoff, Symphony No. 2
Aug 21 Unsuk Chin, subito con forza
Wolf Trap
Vienna, Virginia
Carlisle Floyd, whose centennial falls in 2026, changed the trajectory of American opera when he composed Susannah, an opera infused with idiomatic folk melodies. Wolf Trap Opera presents this beloved American classic for the first time in its space, starring Ann Toomey as Susannah in a production conducted by Stephanie Rhodes Russell and directed by Dan Wallace Miller.
In September, clarinetist-composer Paquito D'Rivera and cellist Yo-Yo Ma perform the world premiere of D'Rivera's double concerto The Journey with the National Symphony Orchestra.
Aug 12-20 Carlisle Floyd, Susannah
Sep 8 Paquito D'Rivera, The Journey (World Premiere; Yo-Yo Ma, cello, and Paquito D'Rivera, clarinet)
Photo: Tanglewood Music Festival

Boosey & Hawkes Composer News