Three Occasions for Orchestra
(1986-1989)
I. A Celebration... II. Remembrance III. Anniversary
Duration: 16'
Scoring
3(II,III=picc).2.corA.2.bcl.2.dbn-4.3.3.1-timp.perc(2):vib/marimba/xyl/3susp.cym/BD/glsp-pft(=cel)-strings(16.14.12.10.8)
Abbreviations (PDF)
Publisher
Boosey & Hawkes (Hendon Music)
Territory
This work is available from Boosey & Hawkes for the world.
World Premiere
10/5/1989
London, Royal Festival Hall
BBC Symphony Orchestra / Oliver Knussen CBE

Programme Note
These are indeed occasional pieces, written for junctures of public celebration, of commemoration, and of private joy and gratitude. But they have outlasted their occasions and become occasions themselves—compact expressions of the brilliance, vivacity and expressive reach of Carter's later music. A Celebration of Some 100 × 150 Notes is a carnival in sound, written at the behest of the Houston Symphony to mark the 150th anniversary of the state of Texas. Remembrance remembers Paul Fromm, a great patron of contemporary music, and takes the form of a broken oration for solo trombone. Anniversary Carter wrote as a dashing and affectionate present for his wife, Helen, on their golden wedding anniversary.

— Paul Griffiths

Reproduction Rights:
This program note can be reproduced free of charge in concert programs with a credit to the author.
Recommended Recording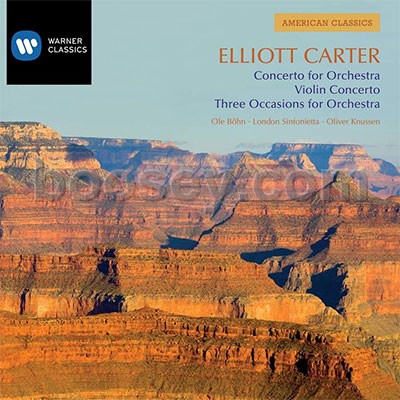 London Sinfonietta/Oliver Knussen
Warner Classics 2066292