Benjamin Britten Christmas Choral Music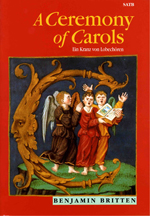 Ideal Christmas concert repertoire from Benjamin Britten.
In March 1942, Benjamin Britten and Peter Pears returned to England from three-year stay in the United States on the Swedish cargo ship Axel Johnson. It was a hazardous voyage as the ship's funnel caught fire and the rest of the convoy had to leave the Axel Johnson to the mercy of an Atlantic dominated by Nazi submarines. During the voyage Britten completed A Ceremony of Carols, op.28, a setting of ten ancient carol texts for treble voices and harp first performed on 5 December at Norwich Castle.
Saint Nicolas was written in 1948, scored for mixed choir, tenor soloist, strings, piano duet, organ and percussion. This dramatic cantata, in nine scenes, portrays the character of St Nicholas (Tenor soloist) and tells the legendary incidents in the life of the Saint, of children, seamen and travelers. The choir transforms itself into the various characters, eye-witnesses and importantly, ties the story together. The inclusion of audience participation at specific moments along with the challenging but highly rewarding choral nature of St Nicholas makes this a very popular choice for a Choral Society. Lasting 45 minutes it would be the ideal back bone of a Christmas concert.
For more information on Benjamin Britten, plus a complete list of available publications and CDs, click here